»

Recipes

»

Salad

»

Shrimp Salad Sandwich
Shrimp Salad Sandwich Recipe
Want to make a dish that is truly different? This shrimp salad sandwich recipe is the perfect answer to your needs. Treat your friends to this sandwich that is an absolute delight. An instant hit with kids as well. So try this sandwich to make your friends and family members delighted.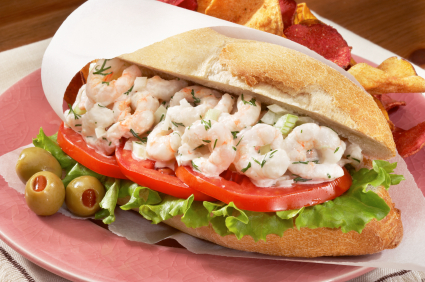 Ingredients
Seasoned soft cream cheese

5 Tablespoon

Butter

3 Tablespoon

Lemon juice

2 Teaspoon

Dried dillweed

1⁄2 Teaspoon

Dried dill weed

1⁄2 Teaspoon

Onion

4 Tablespoon

, chopped

Cooked peeled shrimp

2 Pound

(Small)

Sliced tomatoes

1⁄2 Cup (8 tbs)

Lettuce

1 Cup (16 tbs)

, shredded
Nutrition Facts
Serving size
Calories 635 Calories from Fat 272
% Daily Value*
Total Fat 31 g47.2%
Saturated Fat 20.1 g100.4%
Trans Fat 0 g
Cholesterol 90.8 mg
Sodium 140.6 mg5.9%
Total Carbohydrates 10 g3.3%
Dietary Fiber 2 g7.9%
Sugars 5.4 g
Protein 74 g147%
Vitamin A 72.9% Vitamin C 29.7%
Calcium 11.9% Iron 9.2%
*Based on a 2000 Calorie diet
Directions
Stage 1-Cream first 4 ingredients together.

Stage 2-Fold in onion and shrimp.

Stage 3-Top french bread with lettuce, tomato slices and shrimp mixture. .