»

Recipes

»

Shrimp

»

Shrimp Pulav
Shrimp Pulav Recipe
This recipe doesn't need a side dish. Just potato chips will be nice. This dish is really tasty. Try it.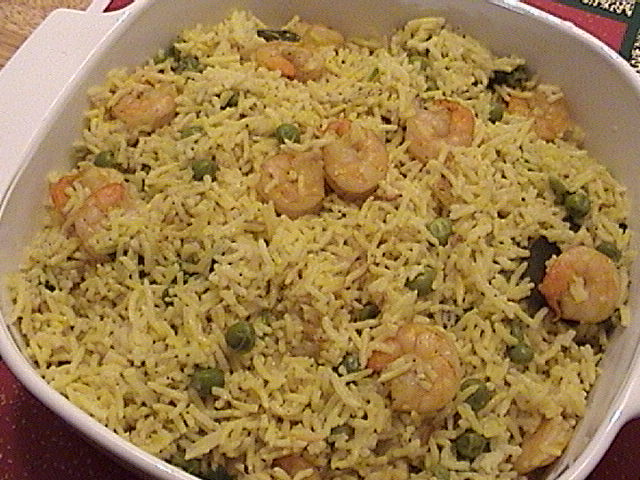 Ingredients
3 small pieces coconut or 4 tbsp shreaded coconut

Garlic

10 Gram

(To Grind set 2:)

1 small piece ginger

Basmati rice

2 Cup (16 tbs)

(Others:)

Shrimp package

1

(Others:)

Frozen green peas

1/4 Cup (16 tbs)

(Others:)

Oil

5 Tablespoon

(Others:)

Ghee

2 Tablespoon

(Others:)

2 count bay leaves

Cinnamon piece

1 Small

(Others:)

5 count mint leaves

1/2 long sliced onion

Green chillies

5

(Others:)

Turmeric powder

3 Pinch

(Others:)

Garam masala powder

1/4 Teaspoon

(Others:)

Salt

2 Teaspoon

(Others:)

Pepper powder

1 Teaspoon

(Others:)

1 tsp lemon drops

2 tbsp chopped corrainder leaves
Directions
* Grind the coconut with water and take out 2 cup of coconut milk.

* Grind the ginger and garlic without any water to a paste.

* Wash basmati rice in water and drain the water.

* Clean the shrimp and keep aside.

* In a heavy bottomed non stick pan pour oil and ghee and put bay leaves, cinnamon, cloves, cardamon, mint leaves, onion and ginger and garlic paste and fry till light brown in medium flame.

* Now add slit green chillies, 3 pinches turmeric powder, garam masala powder, cleaned shrimp, peas and salt and fry all for 3 mins.

* Put the washed rice and mix all once. Pour 1 and 1/2 cups water and 2 cups coconut milk to the rice and put all these in the rice cooker.

* Pour a tsp of lemon drop, see to the salt, the water should be a bit salty, then only after it is cooked it will be nice, so put around 2 tsp of salt and cook.

* After it is cooked and garnish with 2 tbsp chopped corrainder leaves and mix 1/2 tsp of pepper powder, mix all and serve hot.

This shrimp pulao is looking delicious . I will try this recipe very soon.
Posted on:
7 March 2008 - 2:44pm