»

Recipes

»

Spanish

»

Gazpacho

»

Shrimp Gazpacho
Shrimp Gazpacho Recipe
This shrimp gazpacho recipe is my favorite. My friends really enjoy this soup whenever I cook it. Whenever there is a gathering of my friends at my home, most of the time they ask me to cook this delicious soup. You should try this shrimp gazpacho recipe.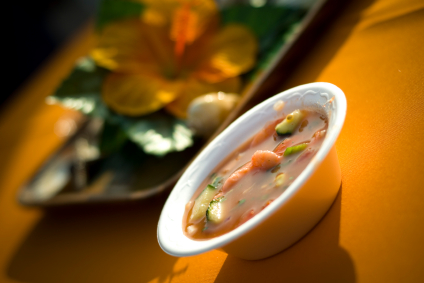 Ingredients
Jalapeno chili

1 Large

, minced

Tomato juice

4 1⁄2 Cup (72 tbs)

, chilled

Lemon wedges

2

Garlic

1 Clove (5 gm)

, chopped

Olive oil

2 Tablespoon

Red wine vinegar

1 Tablespoon

Lemon juice

2 Tablespoon

Cooked shrimp

1⁄2 Pound

(large, peeled deveined)

Plum tomatoes

3⁄4 Pound

, chopped (large, seeded)

Green bell pepper

To Taste

, chopped

Red bell pepper

1

, chopped

Cucumber

1⁄2 Large

, chopped (peeled seeded)

Green onions

1 Bunch (100 gm)

, chopped

Cilantro leaves

1⁄2 Bunch (50 gm)

, chopped
Nutrition Facts
Serving size
Calories 201 Calories from Fat 72
% Daily Value*
Total Fat 8 g12.6%
Saturated Fat 1.1 g5.4%
Trans Fat 0 g
Cholesterol 0 mg
Sodium 44.3 mg1.8%
Total Carbohydrates 22 g7.4%
Dietary Fiber 4.4 g17.7%
Sugars 12.5 g
Protein 13 g25.8%
Vitamin A 93.4% Vitamin C 203.5%
Calcium 6.4% Iron 15.2%
*Based on a 2000 Calorie diet
Directions
Step 1-Combine first 4 ingredients in a bowl.

Step 2-Add shrimp; cover mixture and refrigerate 50 to 100 minutes.

Step 3-Combine tomatoes, green and red pepper, cucumber, green onions, cilantro and Jalapeno in large bowl.

Step 4-Add tomato juice. Stir in shrimp mixture. Season to taste with salt and pepper.

Step 5-Garnish with lemon wedges.

gazpacho with shrimp a great soup. Looks so yummy.
Posted on:
23 April 2008 - 1:10pm