»

Recipes

»

Shrimp
Shrimp Etouffee Recipe
Shrimp etouffe is a cooked shrimp dish made with vegetables and flavored with tomato puree and worcestershire sauce. Garnished with cooked egg slices and served warm with hot cooked rice, this shrimp etouffe makes a great meal.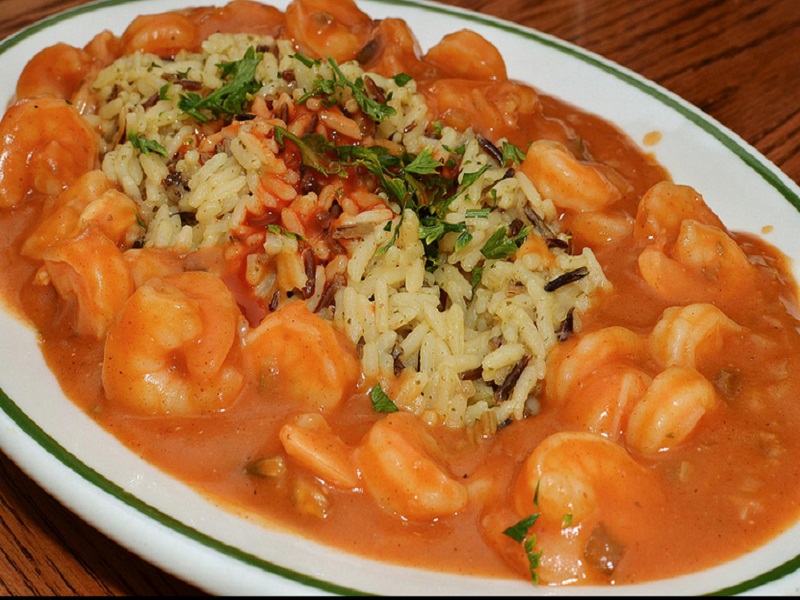 Ingredients
Tabasco sauce

6 Drop

Bay leaves

2

Salt

1 Teaspoon

Thyme

1/2 Teaspoon

, crushed

Pepper

1/4 Teaspoon

Shrimp shell

1 1/2 Pound

, cleaned

2 hard cooked eggs, quartered

1 medium onion, cut in eighths

2 green onions, cut in 2 pieces

3 or 4 cloves garlic

1 stalk celery, cut in 2 pieces

Water

1 Cup (16 tbs)

Butter

1/2 Cup (16 tbs)

Flour

2 Tablespoon

Tomato puree

1 10 1/2 Ounce

Worcestershire sauce

1 Tablespoon
Directions
Defrost shrimp, if frozen.
Put onions, garlic, celery and water into Osterizer container, cover and blender chop.
Drain through strainer, reserving water.
Saute vegetables in butter until tender.
Put reserved water, flour, tomato puree, sauces and seasonings into Osterizer container, cover and process at MIX until smooth.
Add to vegetables and simmer uncovered, stirring occasionally, for about 25 minutes.
Add shrimp and continue cooking 15 minutes.
Serve with parsleyed rice and garnish with hard cooked eggs.
Image Courtesy :
http://www.flickr.com/photos/jeffreyww/7776779642/