»

Recipes

»

American

»

Creole

»

Shrimp Creole
Shrimp Creole Recipe
This Shrimp Creole tastes awesome over rice ! Try this Shrimp cerole for your weekend meal and tell me if you liked them !
Shrimp Creole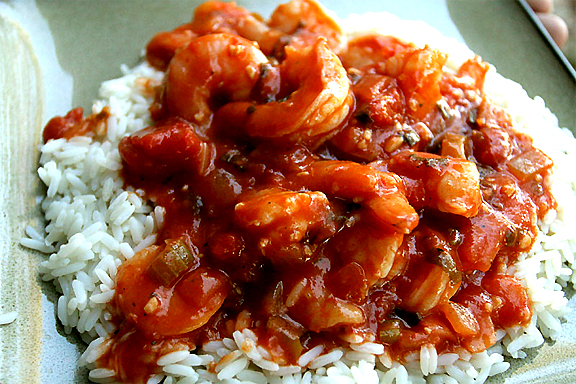 Ingredients
Butter/Margarine

2 Tablespoon

Chopped onion

1⁄2 Cup (8 tbs)

Chopped celery

1⁄4 Cup (4 tbs)

Chopped green pepper

1⁄4 Cup (4 tbs)

Salt

1⁄2 Teaspoon

Cooked tomatoes and juice

2 Cup (32 tbs)

Basil

1 Teaspoon

Canned shrimp

9 Ounce

, drained

Hot cooked rice

3 Cup (48 tbs)
Nutrition Facts
Serving size
Calories 342 Calories from Fat 62
% Daily Value*
Total Fat 7 g10.8%
Saturated Fat 4 g19.8%
Trans Fat 0 g
Cholesterol 16.1 mg
Sodium 483 mg20.1%
Total Carbohydrates 49 g16.2%
Dietary Fiber 2.1 g8.5%
Sugars 4.4 g
Protein 18 g36.4%
Vitamin A 17% Vitamin C 35.7%
Calcium 3.8% Iron 12.8%
*Based on a 2000 Calorie diet
Directions
Melt butter or margarine in a large saucepan.
Saute onion, celery, and green pepper.
Add salt, tomatoes, and basil.
Simmer for 20 minutes.
Add shrimp.
Serve over rice.
Note: Cooked millet or barley may be used in place of the rice.