»

Recipes

»

Chowder

»

Shrimp Corn Chowder
Shrimp Corn Chowder Recipe
This Shrimp Corn Chowder recipe is simple and easy. I love this Shrimp Corn Chowder recipe. I am a professional chef and my friends really enjoy the dish I cook. Whenever there is a gathering of my friends at my home, most of the time they ask me to cook this delicious Shrimp Corn Chowder . You should try this Shrimp Corn Chowder recipe.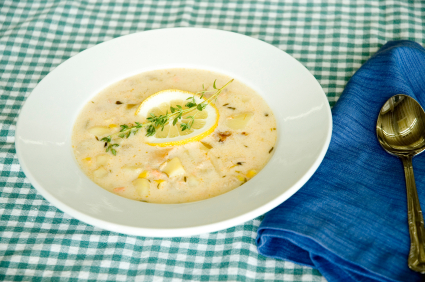 Ingredients
Butter

1⁄2 Tablespoon

Chopped green onion

1⁄4 Cup (4 tbs)

Garlic

1 Clove (5 gm)

, minced

Pepper

1⁄8 Teaspoon

Cream of potato soup

1 Can (10 oz)

(undiluted)

Milk

1 Cup (16 tbs)

Cream cheese

4 Ounce

, softened (1/2 package)

Corn

1⁄2 Can (5 oz)

(undrained)

Shrimp

1 Pound

(peeled and deveined)
Nutrition Facts
Serving size
Calories 611 Calories from Fat 196
% Daily Value*
Total Fat 26 g40.2%
Saturated Fat 11.8 g58.8%
Trans Fat 0 g
Cholesterol 284.3 mg
Sodium 754.4 mg31.4%
Total Carbohydrates 53 g17.8%
Dietary Fiber 5.5 g21.9%
Sugars 5.8 g
Protein 42 g84.3%
Vitamin A 32.5% Vitamin C 18%
Calcium 21.7% Iron 30.1%
*Based on a 2000 Calorie diet
Directions
Step1-Melt butter in a Dutch oven; add onion, garlic and pepper.

Step2-Saute until tender. Stir in soup, milk, cream cheese and corn. Bring to a boil, stirring occasionally.

Step3-Add shrimp, then cover and reduce hat; cook 4-5 minutes.

Serve Shrimp Corn Chowder hot.

I recently had Chicken Chowder at California Pizza Kitchen, here in Boulder, Colorado and it was just amazing. The moment I took a sip of it, I was in love with it and decided right away to learn recipes to make a tummy satisfying chowder. I feel this Shrimp chowder will be just as good.
Posted on:
5 February 2008 - 12:20am

Interesting recipe of Shrimp Corn Chowder. I like it.
Posted on:
2 February 2008 - 10:26am

Shrimp Corn Chowder is looking very delicious.This recipe is also very simple and easy. That means I will try this recipe without any hesitation. But I am confused about soup and this Shrimp Corn Chowder . Is it a soup ?Can you please clear the difference between soup and chowder? By the way thanks a lot for posting this nice recipe of Shrimp Corn Chowder.
Posted on:
2 February 2008 - 4:56am