»

Recipes

»

Salad

»

Shrimp And Rice Salad
Shrimp And Rice Salad Recipe
Shrimp and rice salad is a filing and delcious rice salad cooked with ham and shrimps along with mushrooms peas and bell peppers. Served in a fancy rice ring with shredded lettuce, this is a very enjoyable meal in itself.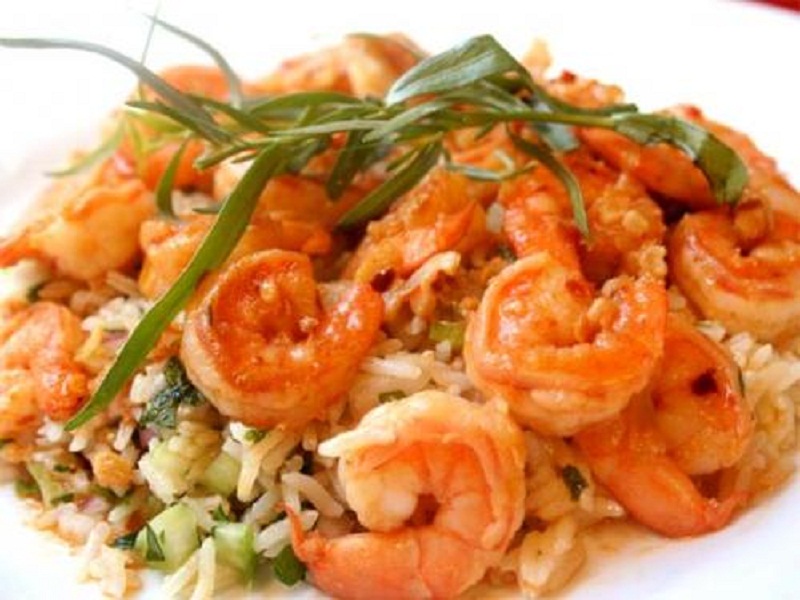 Ingredients
Butter

2 Tablespoon

Onions

2 Small

, peeled and chopped finely

Sliced mushrooms

1 Cup (16 tbs)

Cooked rice

2 Cup (32 tbs)

Cooked peas

1 Cup (16 tbs)

Red peppers

1 Small

, seeded and cut into strips

Chopped parsley

2 Tablespoon

Cooked ham

4 Ounce

, cut into strips

Shrimp

1 Pound

(1 Pint)

French dressing

1 Cup (16 tbs)

Lettuce

1

Tomato slices

3

(For Garnish)

Cucumber slices

3

(For Garnish)
Nutrition Facts
Serving size
Calories 567 Calories from Fat 277
% Daily Value*
Total Fat 31 g48.2%
Saturated Fat 6.8 g33.8%
Trans Fat 0 g
Cholesterol 150.8 mg
Sodium 601.2 mg25%
Total Carbohydrates 44 g14.7%
Dietary Fiber 4.9 g19.8%
Sugars 14.9 g
Protein 29 g57.1%
Vitamin A 142.4% Vitamin C 111.5%
Calcium 11.3% Iron 29.4%
*Based on a 2000 Calorie diet
Directions
Heat the butter and saute the onions until lightly browned.
Remove from the pan.
Add a little more butter if required and fry the mushrooms for 3 minutes.
Mix onion, mushroom and any pan juices with the rice.
Add, peas, red pepper, parsley, ham and shrimps, saving a few for the garnish.
Mix lightly and add enough dressing to moisten.
Arrange the rice mixture in a ring on a serving dish.
Surround with shredded lettuce and put the rest of the lettuce in the centre.
Top with the reserved shrimps and arrange alternate slices of tomato and cucumber on the ring of lettuce.