»

Recipes

»

Italian

»

Scampi

»

Shrimp Scampi I M
Shrimp Scampi I M Recipe
Shrimp Scampi! An amazing dish that ensnared me the first time I tasted it with its lovely flavor! This wonderful dish is sure to win you some fans. You only stand to gain by preparing this Shrimp Scampi recipe. Try it!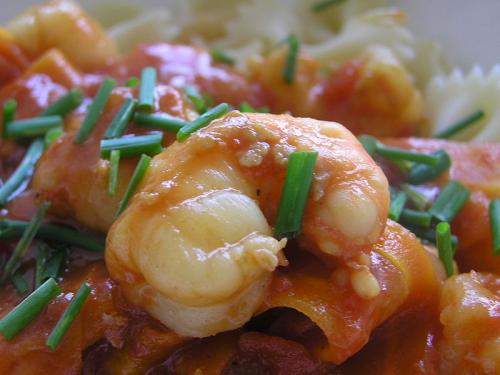 Ingredients
Garlic

1 Clove (5 gm)

, finely chopped

Butter/Margarine

1⁄3 Cup (5.33 tbs)

Chopped green onion

1⁄4 Cup (4 tbs)

Salt

1⁄2 Teaspoon

Frozen medium shrimp

3⁄4 Pound

, cleaned

Lemon juice

1 Tablespoon
Nutrition Facts
Serving size: Complete recipe
Calories 1001 Calories from Fat 607
% Daily Value*
Total Fat 69 g106%
Saturated Fat 38.5 g192.7%
Trans Fat 0 g
Cholesterol 801.3 mg
Sodium 1620.1 mg67.5%
Total Carbohydrates 6 g1.9%
Dietary Fiber 1.8 g7.3%
Sugars 1.5 g
Protein 90 g179.7%
Vitamin A 75.8% Vitamin C 50.4%
Calcium 5.8% Iron 5.7%
*Based on a 2000 Calorie diet
Directions
Combine garlic and butter in 1-quart casserole.
Cook at HIGH 1 1/2 to 2 minutes.
Add green onion and salt.
Stir in shrimp, coating each with butter sauce.
Cover completely with plastic wrap.
TO COOK BY INSTA-MATIC: Cook on COOK 7.
When time appears in display window, stir once.
TO COOK BY TIME: Cook at MEDIUM 5 to 6 minutes, stir once.
TO COMPLETE: Release plastic wrap.
Let stand, covered, 3 minutes.
Sprinkle lemon juice over shrimp before serving.
Image Courtesy :
http://commons.wikimedia.org/wiki/File:Scampi_prawns.jpg