»

Recipes

»

Indian

»

Tamil

»

Chennai

»

Shrimp Madras
Shrimp Madras Recipe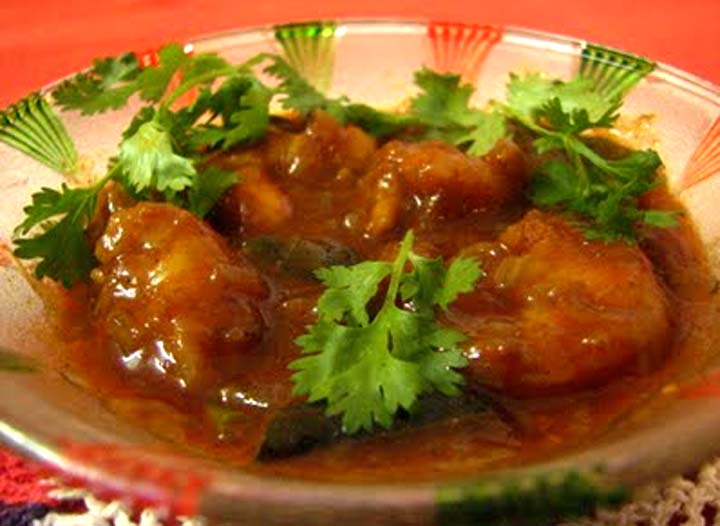 Ingredients
Fresh shrimp

2 Pound

, shelled and deveined

Chopped fresh mint leaves

1 Tablespoon

Turmeric

2 Teaspoon

Ground coriander

1⁄2 Teaspoon

Grated fresh ginger/1/2 teaspoon powdered ginger

1 Teaspoon

Garlic

2 Clove (10 gm)

, minced

Ground cumin

1⁄2 Teaspoon

Vegetable oil

4 Tablespoon

Onion

1 Medium

, grated

Cornstarch

1 Tablespoon

Plain yogurt

1 Cup (16 tbs)

Chopped italian flat leaf parsley/Chopped fresh cilantro leaves

2 Tablespoon

(Fresh)

Lemon

1⁄2

, juiced

Salt

To Taste

Freshly ground black pepper

To Taste
Nutrition Facts
Serving size: Complete recipe
Calories 1867 Calories from Fat 758
% Daily Value*
Total Fat 86 g131.6%
Saturated Fat 16.1 g80.3%
Trans Fat 0 g
Cholesterol 1408.2 mg
Sodium 1876 mg78.2%
Total Carbohydrates 72 g24.1%
Dietary Fiber 10.9 g43.7%
Sugars 20 g
Protein 198 g396.3%
Vitamin A 100.8% Vitamin C 180.4%
Calcium 96.1% Iron 172.1%
*Based on a 2000 Calorie diet
Directions
Place shrimp in bowl; add next 6 ingredients and mix well by hand until all shrimp are coated.
Let stand 1 hour.
Heat 3 tablespoons oil in saute pan.
Add grated onion (chopped onion will not work as well) and cook, stirring, until onion is fairly dry without browning.
Add remaining oil and shrimp mixture.
Stirring and gently turning, cook shrimp until they start to turn pink.
Mix cornstarch with one tablespoon yogurt in bowl, add to the remaining yogurt and add to pan.
Simmer very gently on low heat 10 more minutes.
Add parsley, lemon juice, and salt and pepper to taste.
Serve with rice.