»

Recipes

»

Seed

»

Shrimp In Pumpkin Seed Sauce
Shrimp In Pumpkin Seed Sauce Recipe
Shrimp In Pumpkin Seed Sauce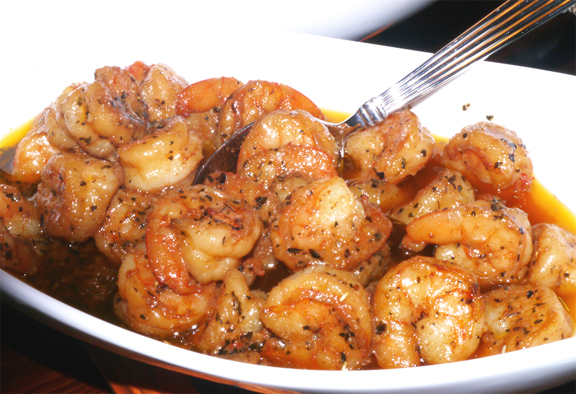 Ingredients
Fresh shrimp in shell

2 Pound

(Medium Size, 900 Gram)

Water

1 Quart

(1 Liter)

Salt

1⁄2 Teaspoon

(2 Milliliter)

Whole black peppercorns

2

Raw pumpkin seeds

8 Ounce

(225 Gram)

Minced fresh coriander

125 Milliliter

(1/2 Cup)

White onion

1 Small

, cut into quarters

Jalapeno chilies

2

, roasted, peeled, seeded, deveined (Fresh)

Garlic

1 Clove (5 gm)

Butter/Margarine

30 Milliliter

(2 Tablespoon)

Mexican cream/Whipping cream

250 Milliliter

(1 Cup)

Coriander sprigs

4

(Fresh)
Nutrition Facts
Serving size: Complete recipe
Calories 2779 Calories from Fat 1144
% Daily Value*
Total Fat 134 g206.9%
Saturated Fat 55.6 g278.1%
Trans Fat 0 g
Cholesterol 1608.1 mg
Sodium 2505.2 mg104.4%
Total Carbohydrates 167 g55.5%
Dietary Fiber 6.7 g26.8%
Sugars 15.6 g
Protein 231 g463%
Vitamin A 267.4% Vitamin C 129.7%
Calcium 89.8% Iron 179.3%
*Based on a 2000 Calorie diet
Directions
1'. Shell and devein shrimp, reserving shells. Refrigerate shrimp, covered.
2. Combine shrimp shells, the water, salt and peppercorns in large saucepan. Heat to boiling; reduce heat to low. Simmer, partially covered, 20 minutes; strain shrimp broth.
3. Return broth to pan; heat over medium-low heat to simmering. Add shrimp; cook just until opaque throughout, 2 to 3 minutes. Drain, reserving broth; refrigerate shrimp, covered.
4. Toast pumpkin seeds in dry 10-inch (25-cm) skillet over medium heat, stirring constantly, just until seeds begin to pop, 3 to 5 minutes; do not allow to brown. Immediately transfer to plate; cool completely.
5. Process seeds in small batches with on/off pulses in electric spice grinder to fine powder. Combine ground seeds, shrimp broth, 1/4 cup (60 mL) minced coriander, the onion, chilies and garlic in blender container; process until very smooth.
6. Heat butter in large saucepan over medium heat until hot. Add broth mixture; cook, stirring frequently, until sauce thickens enough to coat spoon, 10 to 15 minutes.
7. Stir Mexican Cream into sauce. Heat to boiling; reduce heat to medium. Simmer, stirring frequently, 5 minutes. Stir in remaining 1/4 cup (60 mL) minced coriander.
8. Reserve 12 shrimp for garnish. Add remaining shrimp to sauce; cook over low heat, stir ring occasionally, just until heated through, 2 to 3 minutes.