»

Recipes

»

Seafood
Shrimp Curry Recipe
In this delicate yellow curry, a fragrant spice mix imparts a sweet and spicy taste. Fresh, large shrimp are ideal for this dish.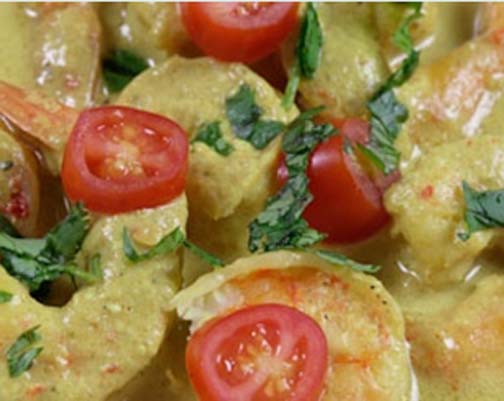 Ingredients
Unsalted butter

2 Tablespoon

Shrimp

35 Large

, peeled, cleaned, deveined, and seasoned with salt and pepper

Coconut milk

1 Cup (16 tbs)

Ground coriander

1 Teaspoon

Ground cumin

1 Teaspoon

Brown sugar

1 Teaspoon

Turmeric

1⁄2 Teaspoon

Red chili powder

1⁄4 Teaspoon

Salt

To Taste

Cherry tomatoes

1⁄4 Cup (4 tbs)

Pineapple chunks

1⁄4 Cup (4 tbs)
Nutrition Facts
Serving size
Calories 555 Calories from Fat 234
% Daily Value*
Total Fat 27 g41.9%
Saturated Fat 18.6 g92.9%
Trans Fat 0 g
Cholesterol 478.9 mg
Sodium 568.3 mg23.7%
Total Carbohydrates 13 g4.2%
Dietary Fiber 2.3 g9.2%
Sugars 6.8 g
Protein 64 g127.6%
Vitamin A 16.7% Vitamin C 21.3%
Calcium 18.9% Iron 51%
*Based on a 2000 Calorie diet
Directions
1.Melt butter in medium sauté pan. Add shrimp and, on a medium flame, cook for 2–3 minutes on each side (or until cooked through). Set aside.
2.In a medium saucepan, add coconut milk, coriander, cumin, brown sugar, turmeric, and red chili powder, and cook for 5 minutes. Add cooked shrimp; cover and let simmer in sauce for 3 minutes. Salt to taste.
3.Place five shrimp on each plate and top liberally with sauce. Garnish with cherry tomatoes and pineapple. Serve with plain basmati rice, couscous, or chapati.
This video is a creation of flexcook. You can visit
flexcook
for complete recipes, and more videos.