»

Recipes

»

American

»

Creole

»

Shrimp Creole With Onions
Shrimp Creole With Onions Recipe
Shrimp creole is a butter cooked shrimp recipe. Prepared with added vegetables and flavored with garlic and paprika, the shrimp creole is deliciously savory and sumptious. It goes great with rice.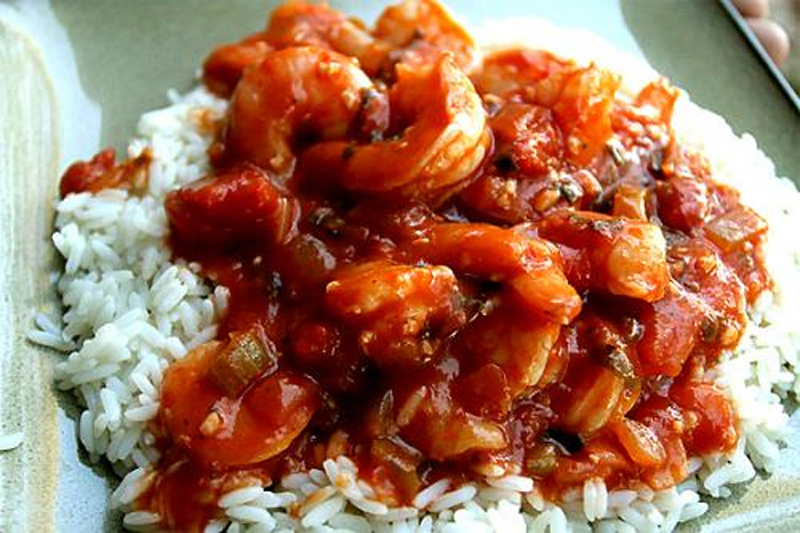 Ingredients
Butter

1⁄4 Cup (4 tbs)

Salt

2 Teaspoon

Onions

2 Medium

, chopped

Pepper

1⁄4 Teaspoon

Paprika

1 Teaspoon

Garlic

1 Clove (5 gm)

, chopped

Raw shrimp

1 1⁄2 Pound

Green peppers

3

Gumbo file

1 Teaspoon

, chopped

Tomatoes

1 Can (10 oz)
Nutrition Facts
Serving size: Complete recipe
Calories 1461 Calories from Fat 530
% Daily Value*
Total Fat 60 g92.4%
Saturated Fat 31.8 g159.2%
Trans Fat 0 g
Cholesterol 1155.1 mg
Sodium 4947.6 mg206.2%
Total Carbohydrates 83 g27.7%
Dietary Fiber 20.7 g82.7%
Sugars 36.4 g
Protein 151 g301.8%
Vitamin A 186.1% Vitamin C 745.1%
Calcium 55.6% Iron 115.9%
*Based on a 2000 Calorie diet
Directions
Melt butter in a large saucepan.
Stir in onions, garlic, green peppers and cook over a low heat until tender.
Stir frequently.
Pour in the tomatoes and simmer gently for 25 to 30 minutes.
Season with salt, pepper, and paprika.
While tomato mixture cooks, remove shells and clean shrimp.
Add to the sauce and cook 5 minutes longer.
Stir in file.