»

Recipes

»

French

»

Bisque
Shrimp Bisque Recipe
Shrimp Bisque has a fine taste. Shrimp Bisque gets its taste from shrimp mixed with flour and eggs, flavored with sherry. Shrimp Bisque is inspired by many food joints worldwide.
Shrimp Bisque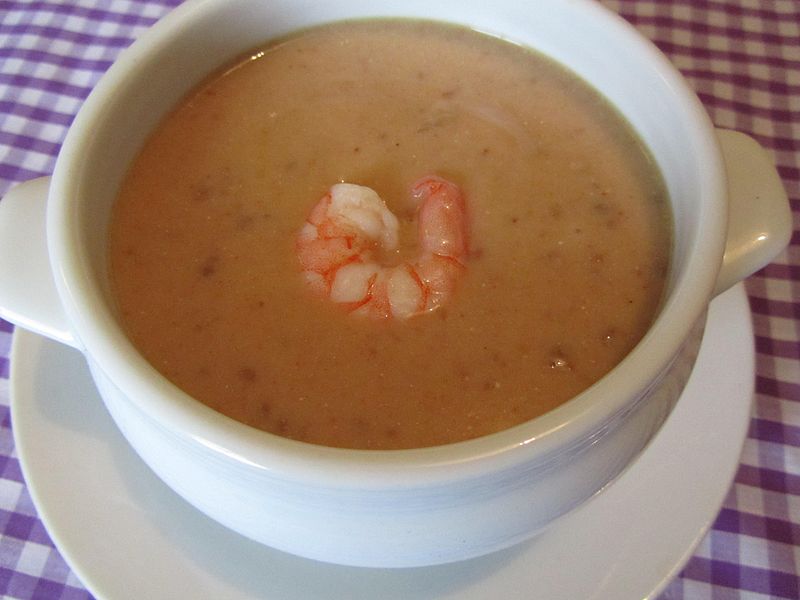 Ingredients
Broth from boiling shrimp

1 Quart

Butter

3 Tablespoon

Clear consomme/Bouillon

1 Can (10 oz)

Flour

1 Tablespoon

Lemon juice

3⁄4 Teaspoon

Hard boiled eggs

1

, sliced

Worcestershire sauce

2 Tablespoon

Fresh lemon

1

Sherry

2 Tablespoon

Chopped parsley

1 Tablespoon

Sherry

1⁄2 Cup (8 tbs)

Shrimp

3

, boiled
Nutrition Facts
Serving size: Complete recipe
Calories 837 Calories from Fat 460
% Daily Value*
Total Fat 52 g80%
Saturated Fat 27.2 g135.9%
Trans Fat 0 g
Cholesterol 448.2 mg
Sodium 6282.8 mg261.8%
Total Carbohydrates 41 g13.7%
Dietary Fiber 3.6 g14.6%
Sugars 5.2 g
Protein 48 g95%
Vitamin A 59% Vitamin C 121.3%
Calcium 20.7% Iron 34.7%
*Based on a 2000 Calorie diet
Directions
To the shrimp broth, Jesse adds the consomme, lemon juice, Worcestershire sauce, and sherry.
A few shrimp bodies, peeled and chopped, are added to the bisque, which is then stored in the refrigerator for serving later in the day or within the next few days.
Just before serving, Jesse heats the bisque and slightly (very slightly) thickens it by slowly adding the heated soup to a mixture of butter and flour that has been blended smooth over a low flame. (For 1 quart of soup 1 tablespoon flour blended with 3 tablespoons butter is ample for proper thickening to a thin broth consistency.)
He places in each soup plate a slice of hard boiled egg, 3 or 4 small or medium sized whole boiled shrimp (with the heads on), and a 1/4 slice wedge cut from a fresh lemon, and ladles the bisque, piping hot, over all.
Jesse adds 1 teaspoon sherry to each serving and sprinkles a pinch of chopped parsley over the top immediately before placing the bisque on the table.