»

Recipes

»

Shrimp

»

Shrimp And Eggplant
Shrimp and Eggplant Recipe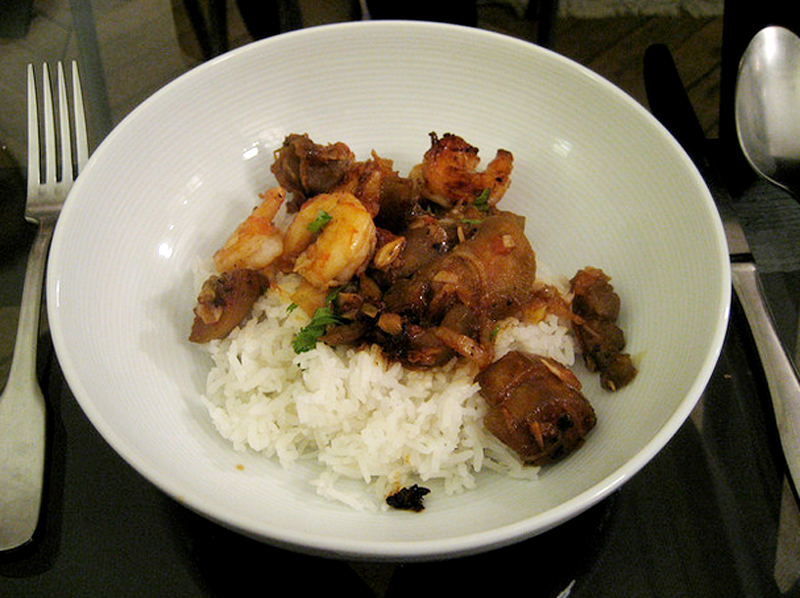 Ingredients
Eggplants

1 Large

(Or Use 2 Small)

Chopped celery

1⁄2 Cup (8 tbs)

Chopped bell pepper

1⁄2 Cup (8 tbs)

Finely chopped onions

3⁄4 Cup (12 tbs)

Garlic

1 Clove (5 gm)

, chopped

Worcestershire

1 Tablespoon

Butter

1⁄4 Pound

Bread slice

2

, toasted

Tabasco

1 Dash

Salt

To Taste

Pepper

To Taste

Egg

1

, beaten

Ripe olives

1⁄2 Cup (8 tbs)

Sliced mushrooms

1 Can (10 oz)

Raw shrimp

2 Pound

, peeled and cut into half

Cream of mushroom soup/Homemade cream sauce

1 Can (10 oz)

Cracker crumbs

3⁄4 Cup (12 tbs)

, crumbled
Nutrition Facts
Serving size
Calories 347 Calories from Fat 163
% Daily Value*
Total Fat 18 g28.4%
Saturated Fat 8.6 g42.9%
Trans Fat 0 g
Cholesterol 229.3 mg
Sodium 682.3 mg28.4%
Total Carbohydrates 19 g6.3%
Dietary Fiber 3.4 g13.7%
Sugars 4.4 g
Protein 26 g53%
Vitamin A 14.5% Vitamin C 20%
Calcium 10% Iron 22.9%
*Based on a 2000 Calorie diet
Directions
GETTING READY
1) Preheat the oven to 375 degrees.
2) In a deep pan, boil eggplants until soft.
3) Once done, peel the eggplant. Chop the flesh and skin fine.

MAKING
4) In another pan, heat butter.
5) Saute celery, bell pepper, onion, garlic and Worcestershire sauce, until glazed.
6) To this, add the eggplant flesh and skin. Mix well. (Note that the mixture should be firm, but not soupy.)
7) Gradually add crumbled toast, Tabasco, salt and pepper to taste.
8) Then add beaten egg, chopped olives and mushrooms.
9) In an unbuttered casserole, place half of this mixture.
10) Combine half of the raw shrimp pieces, 1/2 mushroom soup or cream sauce and add on top.
11) On top of all these, add half of cracker crumbs.
12) Repeat the layering for the remaining mixture, ending with cracker crumbs.
13) With bell pepper rings and paprika, garnish the layers.
14) Bake for 40 to 50 minutes.

SERVING
15) Serve hot with rice and green salad.

TIPS
If you are using mushroom soup in stead of cream sauce, dilute with 1/3 cup milk. You can also use crab meat in place of shrimp.
Image Courtesy :
http://www.flickr.com/photos/bhamsandwich/3058682905/