»

Recipes

»

Cookie

»

Shortcake Cookies
Shortcake Cookies Recipe
Shortcake cookies are very easy to make cookies. These cookies are often decorated with sugar, raisins, currants and jams. Shortcake cookies can be served as snack or as dessert on special occasions like Christmas, Valentines or birthdays.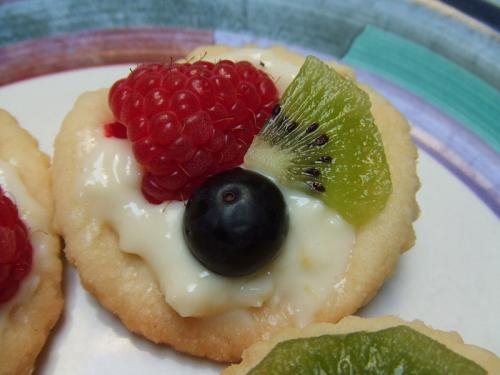 Ingredients
All purpose flour

1 Pound

Baking powder

2 Teaspoon

Eggs

2

Rum

1 Tablespoon

Vanilla

2 Drop

Lemon rind

1⁄2 Teaspoon

, grated

Margarine

1⁄2 Pound
Nutrition Facts
Serving size
Calories 115 Calories from Fat 58
% Daily Value*
Total Fat 7 g10.1%
Saturated Fat 1.2 g6%
Trans Fat 0 g
Cholesterol 14.1 mg
Sodium 33.4 mg1.4%
Total Carbohydrates 12 g3.9%
Dietary Fiber 0.42 g1.7%
Sugars 0.1 g
Protein 2 g4%
Vitamin A 5.7% Vitamin C 0.19%
Calcium 2.9% Iron 4.5%
*Based on a 2000 Calorie diet
Directions
MAKING
1)In a bowl, add and mix all the ingredients to stiff dough.
2)Knead until smooth and pliable. Let it sit for one hour in refrigerator to get cold and firm.
3)Roll it thinly and cut into various shapes.
4)Bake at moderate heat about 375 degrees for 10 to 12 minutes.
5)Decorate with coarse sugar, currants, colored sugar, chocolate or lemon frosting, or sandwich.

SERVING
6)Serve the shortcake cookie with jam.