»

Recipes

»

Indian

»

Shankarpali
Shankarpali Recipe
Shankarpali in Marathi is a snack popular in Maharashtra India, and elsewhere among ethnic Maharashtrian populations. Shankarpali is traditionally enjoyed as a treat on the Diwali holiday. . It is also very popular snack amongst the gujarati community in India. In Gujarati it is called as "shakarpara". shakkar=sugar.It has a high shelf life therefore it is easy to store.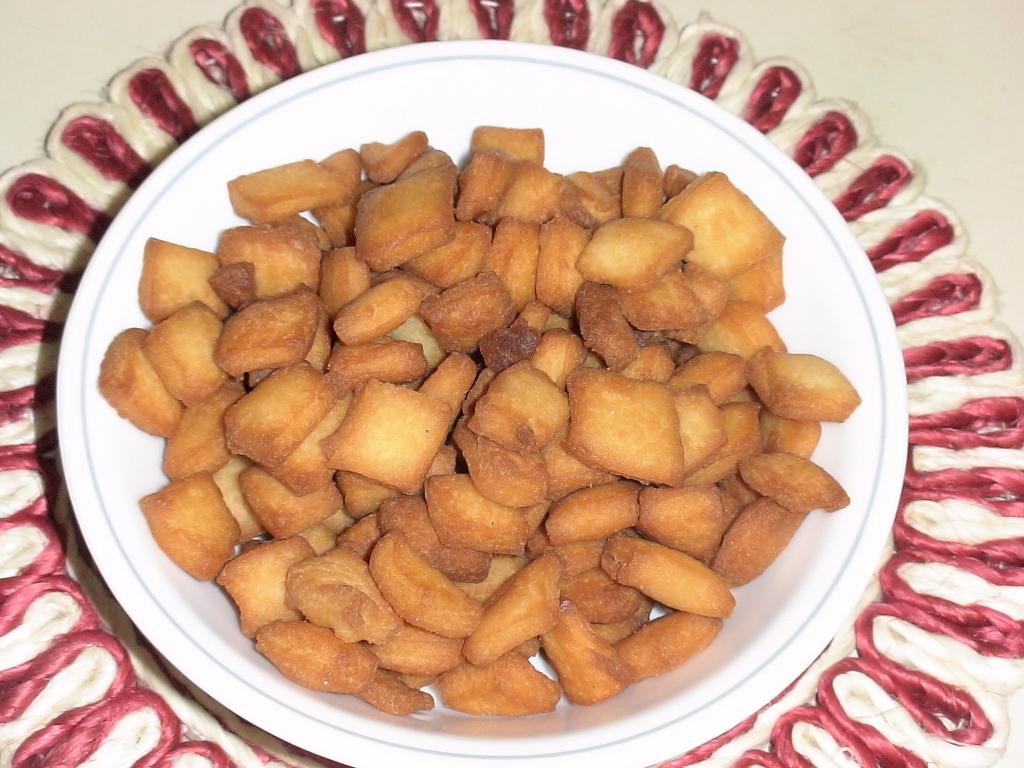 Summary
Preparation Time
5 Min
Cooking Time
10 Min
Ready In
15 Min
Difficulty Level
Very Easy
Health Index
Average
Servings
5
Ingredients
Milk

1 1⁄2 Cup (24 tbs)

Sugar

2 Cup (32 tbs)

All purpose flour

1⁄2 Cup (8 tbs)

(maida)

Salt

1⁄2 Teaspoon

Ghee

3⁄4 Cup (12 tbs)

Oil

200 Milliliter

(for deep frying)
Nutrition Facts
Serving size
Calories 685 Calories from Fat 310
% Daily Value*
Total Fat 35 g54.2%
Saturated Fat 19.8 g98.8%
Trans Fat 0 g
Cholesterol 85.2 mg
Sodium 221.2 mg9.2%
Total Carbohydrates 93 g31%
Dietary Fiber 0.34 g1.4%
Sugars 83.5 g
Protein 3 g6.9%
Vitamin A 1.4% Vitamin C
Calcium 7.9% Iron 3.4%
*Based on a 2000 Calorie diet
Directions
1. Mix ghee, sugar and milk in a pan and heat it till the sugar melts and the mixture starts boiling. Turn the heat off, as soon as the mixture starts boiling.
2. Let the mixture cool down.
3. Mix maida in above mixture and keep adding it till you get a nice, stiff dough. The consistency of the dough should be such that you should be able to roll it. [not too thin, not too stiff.]
4. Heat oil, in a kadhai. Divide the dough in equal parts, roll it, into round shape like a chapati. [it should not be very thin.]
5. Cut it with a knife into small squares.
6. Fry in oil, on medium heat, till you get light brown colour.
7. Serve these nice crispy, crunchy shankarpali with tea.