»

Recipes

»

Chinese

»

Shanghai

»

Shanghai Chicken Salad
Shanghai Chicken Salad Recipe
I like this Shanghai Chicken Salad recipe. This is a traditional recipe. As you know that Shanghai Chicken Salad is a delicious Chinese salad. It is included as a side dish in Chinese lunch and dinner menu. You should try this healthy Shanghai Chicken Salad recipe.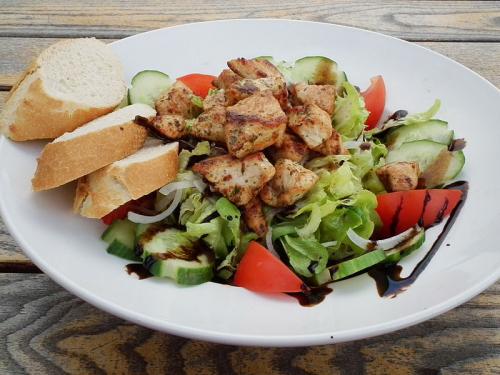 Ingredients
Cilantro

1 Tablespoon

, chopped (Coriander)

Water

1 Tablespoon

Cooked diced chicken

3 Cup (48 tbs)

Lettuce head

1⁄2

Peanuts

2 Tablespoon

, chopped

Sauce

2 Tablespoon

(Sesame Tahini)

Reduced sodium soy sauce

2 Tablespoon

White vinegar

2 Teaspoon

Cayenne pepper

1⁄8 Teaspoon

Green onion

1

, chopped
Directions
Combine tahini sauce, soy sauce and vinegar in small bowl.
Blend in cayenne pepper, green onion and cilantro. Whisk until blended.
Mix in water. Gently combine chicken with dressing.
Mound lettuce on platter or individual plates. Arrange chicken salad on lettuce and sprinkle with chopped peanuts.

Anonymous says :
I loved the cilantro-lime dressing and can't seem to find one that's even close.
Posted on:
7 May 2010 - 2:23pm

This recipe is too good and I like it.
Posted on:
23 September 2008 - 3:46am

very healthy and delicious salad recipe. Salad is also known as life saver. I will try this healthier option very soon.
Posted on:
8 January 2008 - 1:19pm