»

Recipes

»

Asian

»

Kebab

»

Shami Kabab
Shami Kabab Recipe
Minced meat with oriental spices makes a great Starter item.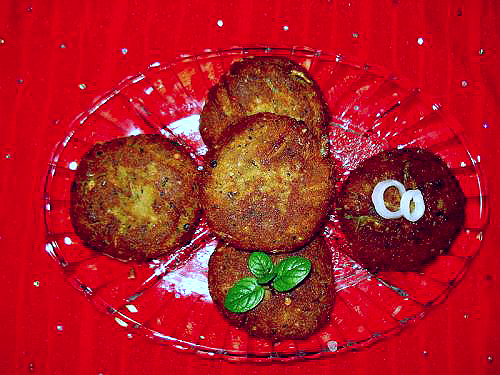 Ingredients
Minced lamb/Minced goat meat

1 Pound

Bengal gram

1⁄2 Cup (8 tbs)

Chopped onion

2 Small

Chopped ginger

1⁄2 Inch

Cardamom

4

Cinnamon piece

1 Inch

Cloves

8

Nutmeg powder

1⁄4 Teaspoon

Chopped garlic

6 Clove (30 gm)

Red chili/1 teaspoon red chili powder

3

Cumin seeds

1 Teaspoon

Coriander seeds

1 Teaspoon

Turmeric powder

1⁄2 Teaspoon

Cilantro

4

Green chili

3

, chopped

Egg

1 Large

Mace flakes

10 Gram

Bay leaf

3

Peppercorns

To Taste

Salt

To Taste

Almond

12

Water

1 Cup (16 tbs)
Nutrition Facts
Serving size
Calories 279 Calories from Fat 141
% Daily Value*
Total Fat 16 g24.4%
Saturated Fat 7 g34.9%
Trans Fat 0 g
Cholesterol 30.2 mg
Sodium 77.3 mg3.2%
Total Carbohydrates 19 g6.3%
Dietary Fiber 5.1 g20.3%
Sugars 3.8 g
Protein 16 g32.9%
Vitamin A 5.2% Vitamin C 37.5%
Calcium 7.2% Iron 14.7%
*Based on a 2000 Calorie diet
Directions
1. Put all the ingredients from meat to water in pressure cooker and cook until 5 or 6 whistles. Else you can also cook in a pan for about 25 to 30 minutes till well done. Ensure that the meat mixture is not too dry and not too watery.

2. Cool and remove and grind the mixture to a fine paste in an electric grinder. Check that the mixture is just about dry before removing from the pressure cooker. If you find too much watery then cook without lid for a few minutes till the meat mixture is little dry.

3. Mix chopped cilantro/green coriander leaves, green chili chopped and one egg with the meat mixture.

4. Take a handful of the mashed meat and make into round shape and then flatten each ball in the palm of your hand.

5. Heat one table spoon oil in a flat pan and fry each of the kabobs in reduced heat turning a few times till both sides are light brown.

6. Serve hot garnished with onion rings and lemon slice.

Anonymous says :
I tried it, but faced 3 problems: 1) after mixing egg, the mixture got quite sticky, not tried it without egg though 2) during frying, the kabab got cooked, but got a thick outer layer of fried stuff, and inner part was not fried properly. 3) it soaked a lot of oil. I will try the following: 1) will not mix egg 2) will try cooking in OTG or microwave 3) no oil will be used, so it will be less fatty.
Posted on:
5 November 2009 - 6:38am

great recipe, can't wait to try it. I get fresh local goat and we love it. Indus Market in Berkeley carries excellent meats.
Posted on:
21 September 2007 - 1:23am

For Video Recipe of Shami Kabab, See this link- http://www.ifood.tv/video/shami_kabab_by_priyu
Posted on:
21 September 2007 - 12:32am