»

Recipes

»

Steak

»

Shaker Flank Steak
Shaker Flank Steak Recipe
Shaker flank steak is a ketchup flavored steak recipe. Cooked with vegetables with a hint of lemon juice to taste, the shaker flank steak is easily prepared and has a rich and savory flavor to it.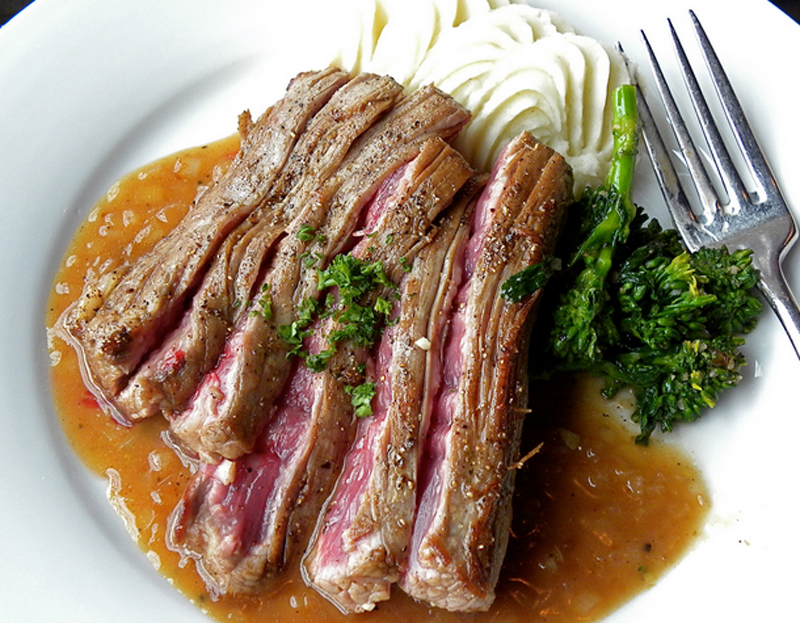 Ingredients
Flank steak

3 Pound

1/2 green pepper, chopped fine

Flour

2 Tablespoon

Butter

2 Tablespoon

2 medium onions, chopped fine

Salt

1 Teaspoon

Pepper

1/4 Teaspoon

Juice of 1/2 lemon

Stalk celery

1

, chopped

Ketchup

1/2 Cup (16 tbs)

1 carrot, chopped fine
Directions
Cut or score both sides of the steak diagonally and dust with flour.
Saute in heated butter until well browned on both sides.
Season with salt and pepper, then add all the chopped vegetables.
Last of all, add lemon juice and ketchup.
Cover tightly and simmer very gently for 1 to l 1/2 hours or until the steak is tender when tested with a fork.
The vegetables cook down to a rich sauce to be served with the meat.
Image Courtesy :
http://www.flickr.com/photos/nordique/4676784391/