»

Recipes

»

Seville Orange Marmalade
Seville Orange Marmalade Recipe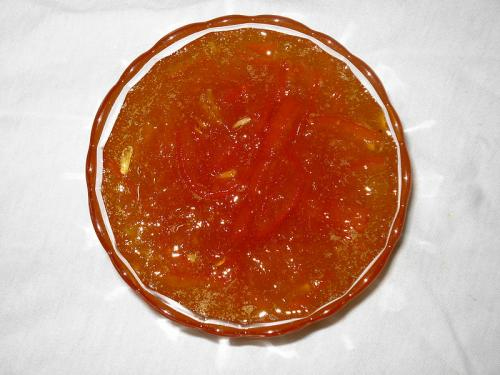 Ingredients
Seville oranges

3 Pound

(1.5 Kilogram)

Water

6 Pint

(3.5 Liter)

Lemons juice

2 Tablespoon

(Juice Extracted From 2 Lemons)

Sugar

6 Pound

, warmed (3 Kilogram)
Nutrition Facts
Serving size
Calories 5671 Calories from Fat 20
% Daily Value*
Total Fat 3 g4.2%
Saturated Fat 0 g
Trans Fat 0 g
Cholesterol 0 mg
Sodium 0.15 mg0.01%
Total Carbohydrates 1460 g486.6%
Dietary Fiber 20.5 g81.9%
Sugars 1380.4 g
Protein 9 g17.8%
Vitamin A 0.1% Vitamin C 11.5%
Calcium 1.5% Iron 0.78%
*Based on a 2000 Calorie diet
Directions
Prepare the fruit.
Tie the pips in a bag, dangle it in the pan and secure the string to the handle.
Add all the juice which has been expressed and the water and lemon juice.
Bring to the boil and then reduce to a gentle simmer until the peel is soft and the pan contents have reduced by half.
This process may take as long as 2 hours.
Remove the pan from the heat, squeeze the bag of pips and discard.
Add the sugar and stir until completely dissolved.
Return to the heat, bring to a rolling boil and continue to boil rapidly until setting-point is reached.
Remove any scum, then cool for 10 minutes before pouring or ladling into clean, warm jars.
Cover and label .