»

Recipes

»

Seven Vegetable Couscous
Seven Vegetable Couscous Recipe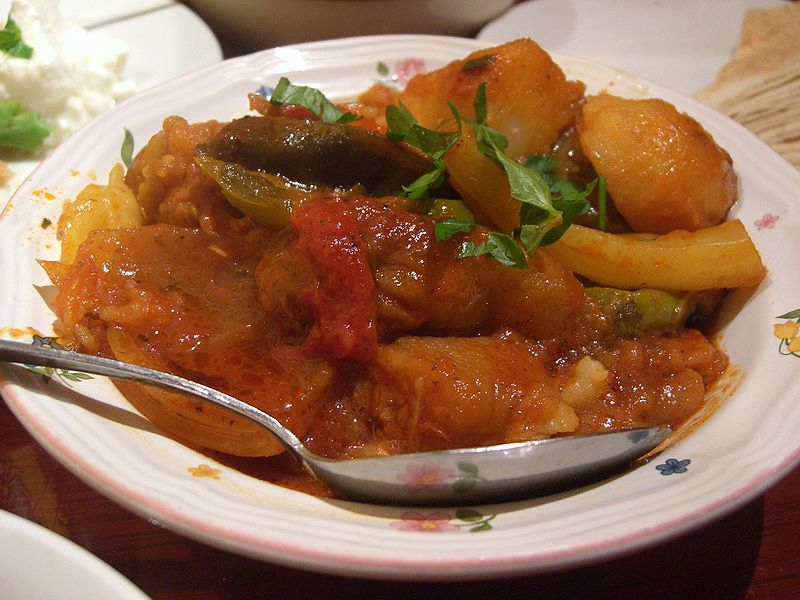 Ingredients
Leeks

6 Medium

(4 Inches Green Left On)

White vinegar

1 Tablespoon

Homemade chicken broth/Fresh homemade vegetable broth

3 Quart

, defatted

Vegetable

3 Quart

Olive oil

4 Tablespoon

Cilantro

6 Large

, rinsed

Cilantro sprigs

6 Large

, rinsed, roots and stems crushed

Garlic

8 Clove (40 gm)

Garlic

8 Clove (40 gm)

, lightly bruised and peeled

Cinnamon sticks

3

(Each 3 Inches Long)

Cumin

2 Teaspoon

Cumin

2 Teaspoon

, ground

Curry powder

2 Teaspoon

(Best Quality)

Saffron threads

1⁄4 Teaspoon

, crumbled

Coarse salt

1 Teaspoon

Zucchini

2 Medium

, ends trimmed

Zucchini

2 Medium

, trimmed

Carrots

6 Medium

, halved

Carrots

6 Medium

, peeled, halved lengthwise, and cut into 2-inch lengths

Idaho potatoes

3

, peeled and cut into quarters

Idaho potatoes

3

Turnips

8 Ounce

Turnips

8 Ounce

, peeled and quartered (Small Ones)

Yellow onions

3 Small

, peeled and halved

Yellow onions

3 Small

, halved

Ripe tomatoes

3 Large

, quartered

Ripe tomatoes

3 Large

, cored and quartered

Canned chickpeas

16 Ounce

, drained, rinsed (1 Can)

Chickpeas

16 Ounce

, drained (1 Package)

Prunes

1 Cup (16 tbs)

, halved

Golden raisins

1⁄2 Cup (8 tbs)

Cilantro leaves

4 Tablespoon

, chopped

Couscous/8 cups cooked, hot couscous

2 2⁄3 Cup (42.67 tbs)

Dried couscous/8 cups cooked couscous hot

2 2⁄3 Cup (42.67 tbs)
Nutrition Facts
Serving size
Calories 1547 Calories from Fat 169
% Daily Value*
Total Fat 19 g29.9%
Saturated Fat 2.7 g13.4%
Trans Fat 0 g
Cholesterol 0 mg
Sodium 715.4 mg29.8%
Total Carbohydrates 309 g103.2%
Dietary Fiber 54.5 g218.1%
Sugars 42.3 g
Protein 55 g109.7%
Vitamin A 784.3% Vitamin C 237.4%
Calcium 44.7% Iron 95.7%
*Based on a 2000 Calorie diet
Directions
GETTING READY
1. Chop and discard roots from leeks.
2. Make a 3-inch deep X cut on the white bulb and into the green of each leek.
3. In a bowl, place leeks and pour enough water to cover.
4. Add the vinegar and let the leeks soak for about 30 minutes to remove any sand.
5. Drain leeks and rinse with cold running water; keep aside.
6. Peel zucchini lengthwise at intervals to make 3 or 4 stripes in the skin.
7. Slice zucchini lengthwise into 1 1/2-inch lengths.

MAKING
8. In a very large heavy pot, put together broth, oil, cilantro sprigs, garlic, cinnamon sticks, cumin, curry powder, saffron, and salt.
9. Bring the pot to a boil and then reduce the heat.
10. Simmer for 30 minutes.
11. Add leeks, carrots, potatoes, turnips, and onions in the broth and bring to a boil.
12. Reduce the heat and simmer for 30 minutes.
13. Add zucchini, tomatoes, chickpeas, prunes, and raisins.
14. Gently stir; take care not to break the vegetables.
15. Simmer for 30 minutes more.

SERVING
16. Gently heat the broth before serving.
17. Add 3 tablespoons of cilantro.
18. Serve couscous into 6 shallow bowls.
19. Top with vegetables and broth.
20. Garnish with the remaining cilantro.
21. Serve hot.
Image Courtesy :
http://commons.wikimedia.org/wiki/File:Spicy_Vegetable_Stew_with_Couscous_at_Moroccan_Soup_Bar.jpg