»

Recipes

»

Cookie

»

Sesame Seed Cookies
Sesame Seed Cookies Recipe
If you like sesame, then this will be an absolute treat! Try out these Sesame Seed Cookies...wonderfully delicious, i enjoy these as a midday snack. The vanilla adds additional flavor, and the brown sugar gives just the right sweetness!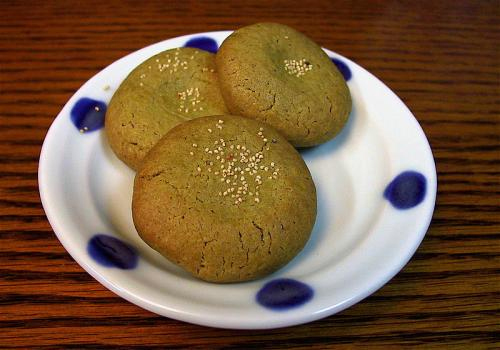 Summary
Preparation Time
25 Min
Cooking Time
5 Min
Ready In
30 Min
Difficulty Level
Easy
Ingredients
Butter/Margarine

3⁄4 Cup (12 tbs)

Sifted brown sugar

2 Cup (32 tbs)

Egg

1

, beaten

Vanilla

1 Teaspoon

Sesame seed

1⁄2 Cup (8 tbs)

Sifted flour

1 Cup (16 tbs)

Salt

1⁄4 Teaspoon
Nutrition Facts
Serving size: Complete recipe
Calories 3609 Calories from Fat 1518
% Daily Value*
Total Fat 174 g267.9%
Saturated Fat 92.8 g463.9%
Trans Fat 0 g
Cholesterol 574.3 mg
Sodium 582.9 mg24.3%
Total Carbohydrates 511 g170.4%
Dietary Fiber 10.7 g43%
Sugars 401.6 g
Protein 32 g63.4%
Vitamin A 89.3% Vitamin C
Calcium 69.6% Iron 88.1%
*Based on a 2000 Calorie diet
Directions
GETTING READY
1) Grease a baking sheet.

MAKING
2) In a bowl, combine and cream the butter and brown sugar till light and fluffy.
3) Add in the egg, vanilla, and sesame seed and beat well.
4) Add in the flour and salt and blend well.
5) Scoop and drop by half teaspoons onto the baking sheet, arranging about 3 inches apart.
6) Place in the oven at 350° F and bake for 4 to 5 minutes.
7) Cool cookies for 2 minutes before removing from the baking sheet. If cookies stick, then reheat slightly.

SERVING
8) Serve as a snack.