»

Recipes

»

Indian

»

Barfi

»

Semolina Barfi
Semolina Barfi Recipe
Semolina Barfi has a great taste. Semolina Barfi gets its taste from Semolina mixed with sugar and milk, flavored with cardamoms. Semolina Barfi is loved by many people.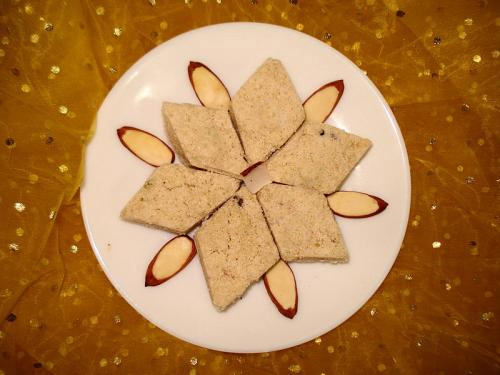 Summary
Difficulty Level
Easy
Cuisine
Indian
Ingredients
Fine semolina

50 Gram

Sugar

100 Gram

Milk

450 Milliliter

Butter

50 Gram

Cardamoms

10

, crushed

Blanched almonds

75 Gram

, halved and toasted
Nutrition Facts
Serving size: Complete recipe
Calories 1647 Calories from Fat 813
% Daily Value*
Total Fat 94 g144.6%
Saturated Fat 37.1 g185.5%
Trans Fat 0 g
Cholesterol 152.5 mg
Sodium 207.9 mg8.7%
Total Carbohydrates 178 g59.5%
Dietary Fiber 11.1 g44.6%
Sugars 127.3 g
Protein 38 g76.5%
Vitamin A 34.3% Vitamin C 1.8%
Calcium 71.1% Iron 23.7%
*Based on a 2000 Calorie diet
Directions
Place the semolina and sugar in a heavy based pan and stir in the milk gradually until smooth.
Add the butter in small pieces.
Bring to the boil, stirring, then simmer for 3-4 minutes, until thickened, stirring occasionally to prevent sticking.
Add the crushed cardamoms and continue cooking for another 10 minutes or until the mixture leaves the sides of the pan.
Spread on a buttered plate or dish to a thickness of 1 to 1.5cm.
Leave until almost cold and then decorate with the almonds.