»

Recipes

»

German

»

Semmel Knodel
Semmel Knodel Recipe
This Semmel Knodel recipe is my mother's favorite. Whenever we are at home during holidays, my mother definitely prepares this dish. Truly speaking this dish brings enjoyment to my house. So if you want to bring happiness to your house, use this Semmel Knodel recipe.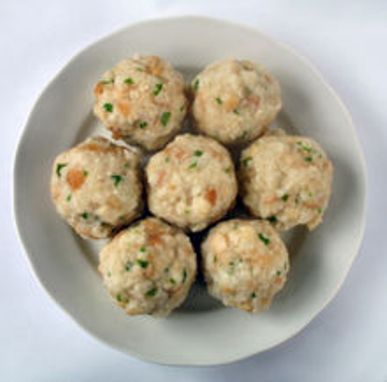 Ingredients
Old buns

2

Milk

1 Cup (16 tbs)

Onion

1 Small

Butter

10 Gram

Salt water

To Taste

(Enough To Cover The Dumplings)

Salt

To Taste

Eggs

2

Parsley

1 Teaspoon
Nutrition Facts
Serving size
Calories 166 Calories from Fat 62
% Daily Value*
Total Fat 7 g11%
Saturated Fat 3.1 g15.6%
Trans Fat 0 g
Cholesterol 116.8 mg
Sodium 292.8 mg12.2%
Total Carbohydrates 19 g6.4%
Dietary Fiber 1.1 g4.3%
Sugars 6 g
Protein 7 g14.8%
Vitamin A 7% Vitamin C 6.6%
Calcium 12.7% Iron 6.2%
*Based on a 2000 Calorie diet
Directions
Stage1-Slice buns fine; add salt and pour warm milk over. Let set 8 to 10 minutes, covered.

Stage2-Cut the onions and parsley fine and saute in the butter.

Stage3-Pour over the cut up buns. Add eggs; mix all ingredients well with hands. Wet hands each time you form a dumpling, rolling them in hands until round and firm and holding together.

Stage4-Make a test dumpling. If it is too loose, add a little bread crumbs; if it is too hard, add a little more milk.

Stage5-Simmer the dumplings in salt water with lid half off.

Stage6-Remove dumplings and serve them on a platter with veal, pork roast, or beef roast.

chrissy says :
my mother was austrian and i loved her knodel..she use to make liver ones and speck and zwetchken...which i think is plum knodel...i miss them so much and hav forgotten how to make them..
Posted on:
30 August 2010 - 9:52am

smiling says :
in our house we eat knoedel often not with meat, but with white sauce and dill or white sauce and mushrooms. also very delicious for not-meat-eaters!
Posted on:
26 March 2010 - 6:42pm

Anonymous says :
Simmer .. how long?
Posted on:
22 September 2009 - 9:02am

Anonymous says :
simmer for 12 minutes---this is not my recipe but the one my Grandma made was similar and we always cook them for 12 minutes---and they must be floating, not stuck to the bottom of the pan!
Posted on:
15 October 2009 - 11:30am

I think you mean Austrian not Australia, as this dumpling is typical German and Austrian dish. They even are available ready made in a boiling bag. and also many pre-mixes from such as Maggi. http://www.germandeli.com/ma6seknimko.html Sometimes they are made with potatoes and sometimes mushrooms are added. Various dumplings are very popular in Germany, Austria, and Eastern European countries (Hungary, Poland, Slovkia, former Yugo etc). They vary from Spätzli or Knöpfle which are small to these large dumplings called Semmel Knödel. Dumplings are also popular as Kosher foods like Matzah Ball (Kneydl). Dumplings are also very much a part of Russian cuisine. Shanti/Mary-Anne
Posted on:
6 March 2008 - 5:35pm

I did some google to find out more about this dish and I believe this one is popular in Australian and Bohemian cuisine and is a popular garnish for roast pork.
Posted on:
6 March 2008 - 4:44pm