»

Recipes

»

Pudding

»

Semi-Sweet Chocolate Casserole Pudding
Semi-Sweet Chocolate Casserole Pudding Recipe
This Semi Sweet Chocolate Cesserole Pudding is indeed a great treat for those who do not want their desserts to be overly sweet. Try out this rather simple recipe for Semi Sweet Chocolate Casserole Pudding and delight in!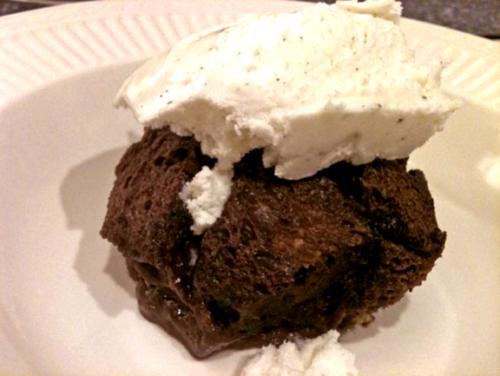 Ingredients
Semi-sweet chocolate morsels-1 6-ounce package (1 cup), divided

Sugar

1/4 Cup (16 tbs)

Salt

1/2 Teaspoon

Lemon rind-1 teaspoon, grated

Doughnuts (approximately 3)- 1 1/2 cups, crumbled

Milk

2 Cup (16 tbs)

Heavy cream

1 Cup (16 tbs)

Sugar

2 Tablespoon

Vanilla

1/2 Teaspoon
Directions
MAKING
1)On hot water, melt 1 cup less 1 tablespoon semi-sweet chocolate morsels. Remove from water.
2)Add sugar, salt, lemon rind, doughnuts and milk, beat nicely.
3)Take a 1 quart greased casserole and sprinkle lightly with nutmeg (optional).
4)Pour the mixture and bake at 350 degrees for 45 minutes. Cool.
5)In another bowl, mix cream, sugar, and vanilla. Then, beat until stiff.
6)Drop by table-spoonsful on top of cooled pudding.
7)Sprinkle reserved tablespoon morsels over cream. Chill overnight.

SERVING
8)Serve semi-sweet chocolate casserole chilled.