»

Recipes

»

Bread

»

Seeded White Bread
Seeded White Bread Recipe
Seeded white bread is a delicious bread with poppy seeds. It is a bread that goes well as a snack or a light dessert. You can experiment a lot with this bread. Serve the bread for meals or for brunch if you please. You will enjoy the seeded white bread thoroughly.
Seeded White Bread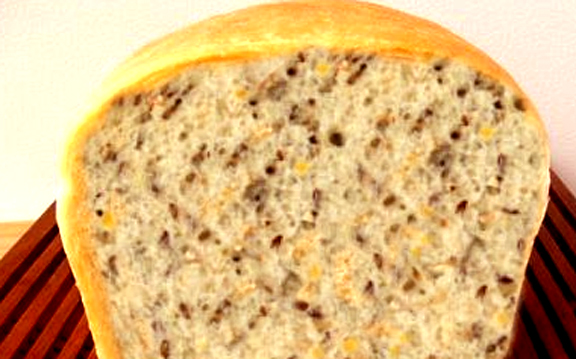 Ingredients
| | | |
| --- | --- | --- |
| | All purpose flour | 6 1⁄2 Cup (104 tbs) |
| | Sugar | 3 Tablespoon |
| | Salt | 2 Teaspoon |
| | Dry yeast | 1⁄4 Ounce |
| | Milk | 1⁄2 Cup (8 tbs) |
| | Margarine | 3 Tablespoon |
| | Egg white | 1 |
| | Poppy seed | 1 Tablespoon |
Nutrition Facts
Serving size
Calories 909 Calories from Fat 119
% Daily Value*
Total Fat 14 g20.9%
Saturated Fat 2.6 g13.1%
Trans Fat 0 g
Cholesterol 2.8 mg
Sodium 1001.4 mg41.7%
Total Carbohydrates 170 g56.5%
Dietary Fiber 6.6 g26.4%
Sugars 13.4 g
Protein 24 g48.1%
Vitamin A 8.6% Vitamin C 0.09%
Calcium 11.9% Iron 56.2%
*Based on a 2000 Calorie diet
Directions
MAKING
1)In a large bowl, mix 2 cups flour, sugar, salt and yeast.
2)In a saucepan, add 11/2 cups water, milk and margarine and cook on low heat until warm. Margarine does not need to melt.
3)Fold into dry ingredients slowly and beat for 2 minutes with electric mixer at medium speed. Scrap bowl occasionally.
4)Add 3/4 cup flour and beat at high speed for 2 minutes. Add enough flour to make soft dough.
5)On a lightly floured board, knead for 8 to 10 minutes or until smooth and elastic.
6)Take a greased bowl and put the dough into it. Turn to grease top and cover.
7)Allow it to rise in warm place for about 1 hour or until doubled in- bulk. Punch down.
8)On a lightly floured board place the dough, cover and let rest for 15 minutes.
9)Roll into 16 x 9-inch rectangle and roll as for jelly roll, starting from 16-inch side. Pinch seam to seal.
10)Take a greased 10-inch tube pan and put the dough with sealed edge down.
11)Seal the ends together firmly and press dough down to fully cover bottom of pan.
12)Cover and let it rise in warm place for about 1 hour or until doubled in bulk.
13)Brush ring lightly with beaten egg white and sprinkle poppy seeds.
14)Bake at 400 degrees for about 40 minutes or until done. Remove from pan and cool on wire rack.

SERVING
15)Slice and serve the bread.