»

Recipes

»

Pie
Seafood Pie Recipe
Ahoy there! A savory blend of crab and rich cheeses bakes in this delicious pie that's hearty enough to satisfy even the hungriest of crews.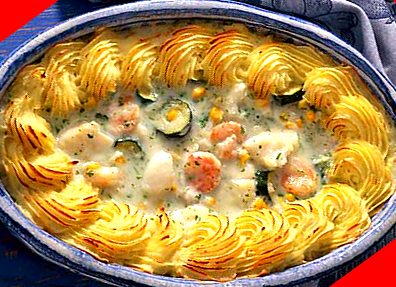 Ingredients
Frozen ready to serve crabmeat/1 package 5 ounces frozen cooked salad shrimp, thawed and drained

6 Ounce

, cooked, drained (Thawed And Drained)

Shredded sharp natural cheddar cheese

4 Ounce

Cream cheese

3 Ounce

, cut into 1/4 inch cubes

Sliced green onion

1⁄4 Cup (4 tbs)

Diced pimientos

2 Ounce

(Drained)

Original bisquick mix

1⁄2 Cup (8 tbs)

Milk

1 Cup (16 tbs)

Salt

1⁄2 Teaspoon

Ground nutmeg

1⁄8 Teaspoon

Eggs

2
Nutrition Facts
Serving size
Calories 232 Calories from Fat 131
% Daily Value*
Total Fat 15 g23.1%
Saturated Fat 8.2 g41%
Trans Fat 0.3 g
Cholesterol 134.4 mg
Sodium 668.4 mg27.8%
Total Carbohydrates 10 g3.4%
Dietary Fiber 0.43 g1.7%
Sugars 3.6 g
Protein 14 g28%
Vitamin A 13.6% Vitamin C 19%
Calcium 24.2% Iron 4.1%
*Based on a 2000 Calorie diet
Directions
1. Heat oven to 400°F. Grease pie plate, 9x1 1/4 inches. Mix crabmeat, cheeses, onions and pimientos in pie plate.
2. Stir remaining ingredients in bowl with fork until blended. Pour into pie plate.
3. Bake uncovered 35 to 40 minutes or until golden brown and knife inserted in center comes out clean (some cream cheese may stick to knife). Let stand 10 minutes before cutting.