»

Recipes

»

French

»

Crepe

»

Seafood Crepes
Seafood Crepes Recipe
I like this seafood crepes recipe .Cooking is my hobby which I have primarily learn't from my mother. Normally for lunch during holidays, I cook this dish and enjoy it with my mother. You must try this seafood crepes recipe.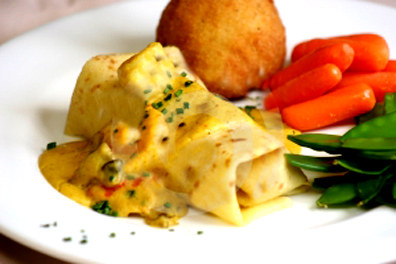 Ingredients
All purpose flour

2⁄3 Cup (10.67 tbs)

Milk

1 Cup (16 tbs)

Vegetable oil

1 Tablespoon

Sugar

1 Teaspoon

Baking powder

1⁄4 Teaspoon

Salt

1⁄4 Teaspoon

Egg

1

Butter/Margarine

2 Tablespoon

Chopped mushrooms

1⁄4 Cup (4 tbs)

(fresh)

Green onions

1⁄4 Cup (4 tbs)

, chopped (4 medium sized)

Small cooked shrimp

2⁄3 Cup (10.67 tbs)

Frozen cooked crab meat

6 Ounce

(thawed)

Half and half

1⁄2 Cup (8 tbs)

Cream cheese

6 Ounce

, cubed

Shredded swiss cheese

4 Ounce

(1 cup)
Nutrition Facts
Serving size
Calories 561 Calories from Fat 346
% Daily Value*
Total Fat 39 g60.4%
Saturated Fat 21.3 g106.3%
Trans Fat 0 g
Cholesterol 158.7 mg
Sodium 391.2 mg16.3%
Total Carbohydrates 26 g8.5%
Dietary Fiber 0.78 g3.1%
Sugars 6.4 g
Protein 27 g53.9%
Vitamin A 27.3% Vitamin C 4%
Calcium 39.9% Iron 8.9%
*Based on a 2000 Calorie diet
Directions
1. In medium bowl, beat all crepe ingredients with wire whisk or hand beater until smooth. For each crepe, lightly butter 7- or 8-inch skillet; heat over medium heat until bubbly. Pour slightly less than 1/4 cup batter into skillet; rotate skillet until batter covers bottom. Cook until light brown; turn and cook other side until light brown. Stack crepes, placing waxed paper between each. Keep crepes covered to prevent them from drying out.
2. In 2-quart saucepan, melt butter over medium heat. Cook mushrooms and 2 tablespoons of the onions in butter, stirring occasionally, until onions are tender. Stir in shrimp, crabmeat, half-and-half and cream cheese. Cook over medium heat, stirring constantly, until cheese is melted.
3. Spoon about 1/4 cup seafood mixture down center of each crepe; roll up. Place in 11x7-inch (2-quart) glass baking dish. Sprinkle with Swiss cheese.
4. Microwave uncovered on High 4 to 6 minutes or until cheese is melted and crepes are heated through. Sprinkle with remaining 2 tablespoons onions.