»

Recipes

»

Salad

»

Seafood Pasta Salad.
Seafood Pasta Salad. Recipe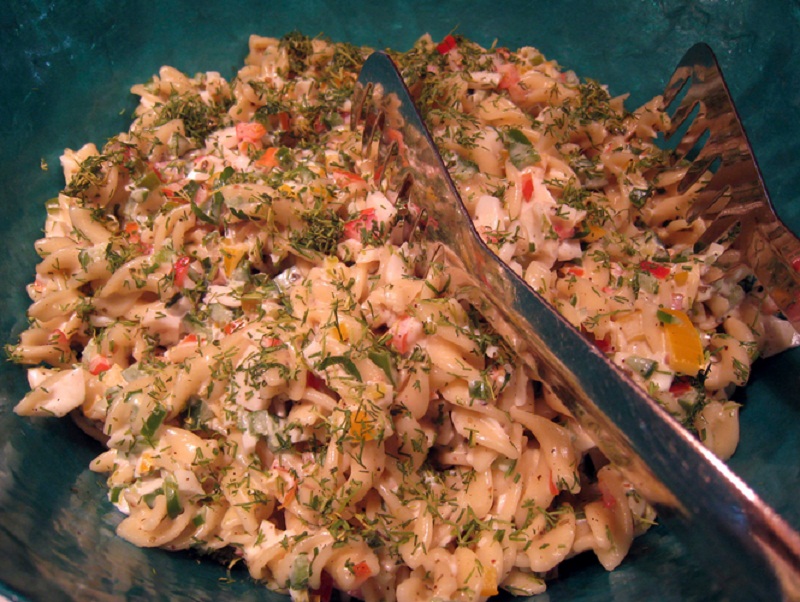 Ingredients
Corkscrew pasta

8 Ounce

Broccoli florets

1 Cup (16 tbs)

Mayonnaise/Salad dressing

1⁄2 Cup (8 tbs)

Zesty italian salad dressing

1⁄4 Cup (4 tbs)

Grated parmesan cheese

2 Tablespoon

Canned black eyed peas

2 Cup (32 tbs)

, rinsed (Green Or Yellow)

Chopped imitation crabmeat

8 Ounce

(1 1/2 Cups)

Chopped green bell pepper

1⁄2 Cup (8 tbs)

Chopped tomato

1⁄2 Cup (8 tbs)

Sliced green onions

1⁄4 Cup (4 tbs)
Nutrition Facts
Serving size
Calories 818 Calories from Fat 360
% Daily Value*
Total Fat 41 g63.3%
Saturated Fat 4.7 g23.7%
Trans Fat 0 g
Cholesterol 35 mg
Sodium 1499.2 mg62.5%
Total Carbohydrates 90 g29.8%
Dietary Fiber 11.7 g46.8%
Sugars 16.4 g
Protein 29 g59%
Vitamin A 55.3% Vitamin C 139.2%
Calcium 15.4% Iron 20.3%
*Based on a 2000 Calorie diet
Directions
MAKING
1. In a pan add water, cook pasta as per package directions and drain.
2. In 2-quart saucepan over high heat, bring 1 quart lightly salted water to a boil, add broccoli and boil for 3 minutes such that it is crisp-tender.
3. From the saucepan, drain the broccoli, immediately plunge it into cold water to end cooking, drain again and keep aside to cool.
4. In a large bowl combine mayonnaise, dressing and cheese such that well blended.
5. Toss pasta, broccoli, peas, crabmeat, pepper, tomato and onions with the dressing gently to coat.

SERVING
6. Serve after refrigerating it for at least 2 hours.
Image Courtesy :
http://www.flickr.com/photos/haynes/928876309/