»

Recipes

»

Seafood

»

Seafood Newburg Au Gourmet
Seafood Newburg au Gourmet Recipe
Seafood Newburg au gourmet is a dish very different other seafood dishes. It is made in light cream and is extremely delicious. Make this dish on any occasions and serve it on patty shells, rice and toasts. You can adjust the thickness of seafood Newburg au gourmet by adding little milk to it.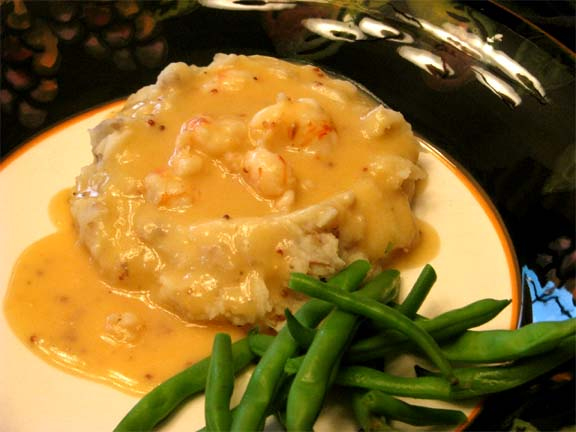 Ingredients
Shrimps

1 1/2 Cup (16 tbs)

, cooked

Fillet of flounder -1 1/2 cups, cooked

Ripe olives

1/2 Cup (16 tbs)

, sliced

Butter/Margarine

3 Tablespoon

All-purpose flour -2 tablespoons

Salt

1/2 Teaspoon

Pepper

1/8 Teaspoon

Dash Tabasco sauce

Light cream

1 1/2 Cup (16 tbs)

Mushroom caps-6-ounce can

Egg yolks

3

, Well beaten

Sherry

1/3 Cup (16 tbs)

Toast-to serve
Directions
GETTING READY
1)Cook shrimps and fish, flake fish.
2)Slice olives in large chunks.

MAKING
3)In blazer pan, melt butter and add flour and seasonings. Stir.
4)Slowly, add cream and keep stirring constantly.
5)Fold in shrimps, fish, drained mushrooms and ripe olives.
6)Add egg yolks and sherry. Cook until mixture thickens. Stir lightly.

SERVING
7)Serve Sea Food Newburg au Gourmet on toast.