»

Recipes

»

Fusion

»

Scrambled Eggs A La Suisse
Scrambled Eggs a la Suisse Recipe
Are you looking for an awesome Scrambled Eggs a La Suisse recipe? This recipe will save you dollars which you have spent at European restaurants for similar or perhaps inferior taste. A great Breakfast recipe is one like this. Do try out this great Scrambled Eggs a La Suisse recipe.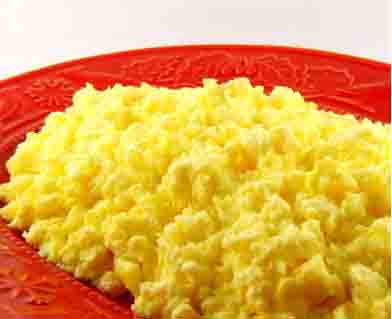 Summary
Preparation Time
10 Min
Cooking Time
10 Min
Ready In
20 Min
Difficulty Level
Very Easy
Health Index
Healthy++
Servings
2
Ingredients
Eggs

8

Light cream

1⁄2 Cup (8 tbs)

Salt

1⁄2 Teaspoon

Cayenne

1 Dash

Natural swiss cheese

1 Cup (16 tbs)

, grated (1/4 Lb)

Swiss cheese

1⁄4 Pound

Butter/Margarine

2 Tablespoon

Snipped chives/Snipped parsley

1 Teaspoon
Nutrition Facts
Serving size
Calories 1036 Calories from Fat 749
% Daily Value*
Total Fat 85 g130.4%
Saturated Fat 47.3 g236.6%
Trans Fat 0 g
Cholesterol 1057.7 mg
Sodium 1022.2 mg42.6%
Total Carbohydrates 10 g3.4%
Dietary Fiber 0.11 g0.42%
Sugars 3.3 g
Protein 60 g119.5%
Vitamin A 63% Vitamin C 3.2%
Calcium 112.4% Iron 22.1%
*Based on a 2000 Calorie diet
Directions
MAKING
1. With rotary beater, beat eggs, cream, salt, and cayenne in top of double boiler until well combined.
2. Stir in 3/4 cup Swiss cheese and the butter. Cook, over gently boiling water, stirring occasionally, 12 to 15 minutes, or until eggs are set but still creamy.

SERVING
3. Serve eggs sprinkled with rest of cheese and the chives.