»

Recipes

»

Mushroom

»

Scrambled Eggs With Mushrooms
Scrambled Eggs With Mushrooms Recipe
Scrambled Eggs With Mushrooms is a delicious recipe which you will love to serve to your friends and family. This is something which I tried on my last weekend party and it was a great hit. So, why dont you try the same and share your experience with us!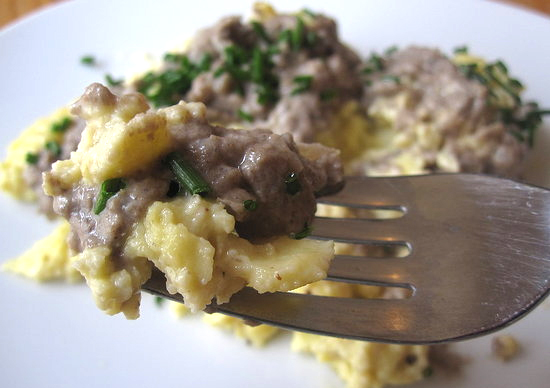 Ingredients
Butter

2 Tablespoon

Shallots/Scallions

2

, finely chopped

Sliced mushrooms

1 Cup (16 tbs)

Eggs

6

Milk

6 Tablespoon

Salt

1⁄4 Teaspoon

Black pepper

To Taste

Nutmeg

1 Dash

Toasted bread slices

4

(Crust Removed)
Nutrition Facts
Serving size: Complete recipe
Calories 1051 Calories from Fat 549
% Daily Value*
Total Fat 62 g94.7%
Saturated Fat 27.5 g137.4%
Trans Fat 0 g
Cholesterol 1342.4 mg
Sodium 1561.2 mg65.1%
Total Carbohydrates 72 g24%
Dietary Fiber 5 g20.1%
Sugars 13.6 g
Protein 55 g110.5%
Vitamin A 58% Vitamin C 7.4%
Calcium 45.7% Iron 58.4%
*Based on a 2000 Calorie diet
Directions
Heat the butter in a frying pan.
Add shallots and mushrooms and saute for 3 minutes.
In the meantime, beat the eggs with the milk and add this mixture to the pan, stirring constantly until the eggs are set but still creamy.
Season with salt, pepper and nutmeg.