»

Recipes

»

Fusion

»

Scrambled Eggs With Bacon
Scrambled Eggs With Bacon Recipe
Scrambled Eggs With Bacon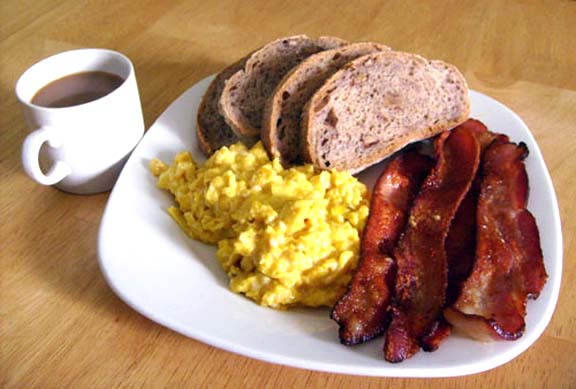 Ingredients
Butter/Margarine

3 Tablespoon

Eggs

6

Milk/Cream / evaporated milk

6 Tablespoon

Salt

1⁄2 Teaspoon

Pepper

1⁄8 Teaspoon

Parsley

1 Tablespoon

, minced

Bacon strip

6
Nutrition Facts
Serving size: Complete recipe
Calories 1024 Calories from Fat 776
% Daily Value*
Total Fat 87 g134%
Saturated Fat 41.2 g206%
Trans Fat 0 g
Cholesterol 1392.4 mg
Sodium 2223.6 mg92.7%
Total Carbohydrates 8 g2.7%
Dietary Fiber 0.52 g2.1%
Sugars 7.2 g
Protein 49 g97.2%
Vitamin A 78.8% Vitamin C 33.3%
Calcium 29.3% Iron 35.9%
*Based on a 2000 Calorie diet
Directions
1. Heat the butter or margarine in a heavy frying pan until it bubbles.
2. Slip the eggs into the pan, add milk or cream, salt and pepper. Then stir with a fork until the mixture is like custard. Keep scraping the bottom and sides of the pan to mix all in.
3. Spoon onto a heated platter. Garnish with strips of crisp bacon. Sprinkle with minced parsley.