»

Recipes

»

Egg

»

Scotch Eggs
Scotch Eggs Recipe
Scotch Eggs has a outstanding taste. The eggs and sausage meat gives the Scotch Eggs a rousing taste. Scotch Eggs is inspired by restaurants across the world. Must catch it.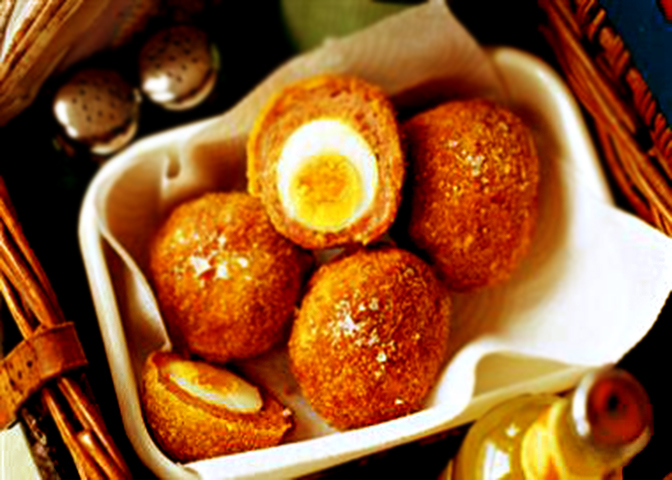 Ingredients
Hard boiled eggs

4

Sausage meat

2 Ounce

(For Each Egg)

Frying oil

2 Cup (32 tbs)

(For Frying)

Breadcrumbs

1 Cup (16 tbs)

, beaten

Beaten egg

1
Nutrition Facts
Serving size: Complete recipe
Calories 4805 Calories from Fat 4500
% Daily Value*
Total Fat 486 g747.6%
Saturated Fat 92.9 g464.6%
Trans Fat 0.1 g
Cholesterol 1219.1 mg
Sodium 1019.8 mg42.5%
Total Carbohydrates 26 g8.6%
Dietary Fiber 1.1 g4.3%
Sugars 4.9 g
Protein 47 g93.9%
Vitamin A 32.4% Vitamin C 0.66%
Calcium 21.4% Iron 33%
*Based on a 2000 Calorie diet
Directions
Peel the hard boiled eggs and roll in flour.
Wrap each in fairly thin sausage meat, but do not stretch the latter or it will disintegrate in cooking.
Roll in beaten egg, then breadcrumbs and fry in deep fat until brown.
Cut in half when cold, and serve with watercress or lettuce.
Scotch eggs, of course, are equally good served hot with suitable vegetables.
Hot tomatoes, pureed, are especially attractive.