»

Recipes

»

Scone

»

Scotch Cream Scones
Scotch Cream Scones Recipe
Scotch cream scones are almost like the pancakes but little smaller and thicker. These are mostly served warm as snacks. The cream scones are light, crispy and buttery fluffy rounds just right to accompany tea.
Scotch Cream Scones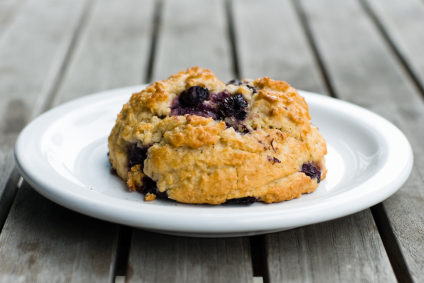 Ingredients
All-purpose flour

2 Cup (32 tbs)

, sifted

Salt

3⁄4 Teaspoon

Sugar

1 Teaspoon

Baking powder

1 Teaspoon

Butter

5 Tablespoon

Baking soda

1 Teaspoon

Water

2 Tablespoon

Sour cream

1 Cup (16 tbs)

Currants

1 Cup (16 tbs)
Nutrition Facts
Serving size
Calories 329 Calories from Fat 159
% Daily Value*
Total Fat 18 g27.9%
Saturated Fat 10.9 g54.5%
Trans Fat 0 g
Cholesterol 46.8 mg
Sodium 569.1 mg23.7%
Total Carbohydrates 37 g12.3%
Dietary Fiber 1.9 g7.7%
Sugars 3.7 g
Protein 5 g10.9%
Vitamin A 10.8% Vitamin C 13.3%
Calcium 11.9% Iron 12.7%
*Based on a 2000 Calorie diet
Directions
MAKING
1)In a bowl, sift together flour, salt, sugar and baking powder.
2)Cut in butter with a pastry blender or two knives.
3)In another bowl, mix soda, water and sour cream and add it into flour mixture.
4)Then, add currants.
5)Turn out onto a lightly floured board and divide dough into four parts.
6)Pat each part into a round about 1/2 inch thick, cut rounds in quarters.
7)Take a greased griddle and heat it. Pour them and cook for about 20 minutes, turning frequently for even browning on both sides.

SERVING
8)Serve the scones warm with jam and tea.