»

Recipes

»

Scone

»

Scones
Scones Recipe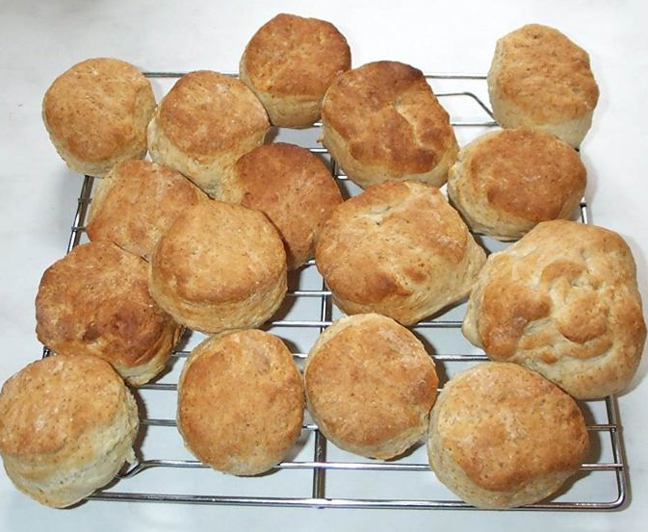 Ingredients
Oat bran

125 Milliliter

(1/2 Cup)

Flour

125 Milliliter

(1/2 Cup)

Sugar

1 Teaspoon

Baking powder

1 1⁄2 Teaspoon

Salt

1 Dash

Butter

25 Milliliter

(2 Tablespoon)

Milk

90 Milliliter

(6 Tablespoon)

Raisins

50 Milliliter

(1/4 Cup)

Nuts

50 Milliliter

, chopped (1/4 Cup)
Nutrition Facts
Serving size
Calories 367 Calories from Fat 134
% Daily Value*
Total Fat 15 g23%
Saturated Fat 5.2 g26%
Trans Fat 0 g
Cholesterol 15.7 mg
Sodium 235.3 mg9.8%
Total Carbohydrates 60 g19.8%
Dietary Fiber 7 g28%
Sugars 10.8 g
Protein 12 g24.9%
Vitamin A 3.6% Vitamin C 0.48%
Calcium 21.2% Iron 20%
*Based on a 2000 Calorie diet
Directions
MAKING
1) Combine the oat bran, flour, sugar, baking powder and salt together, then cut in the butter until the mixture is crumbly.
2) Gradually add one tablespoon of the milk at a time and form a soft dough.
3) Mix in the raisins and nuts, knead well and divide the dough into 4 equal portions.
4) Shape the dough into 3-inch rounds and place over an ungreased baking sheet.
5) Bake as per the cooking directions until the scones are golden brown.

SERVING
6) Serve the scones in a nice plate.
Image Courtesy :
http://commons.wikimedia.org/wiki/File:Buttermilk-Scones-batch.jpg