»

Recipes

»

Cod

»

Scalloped Salt Cod
Scalloped Salt Cod Recipe
Scalloped Salt Cod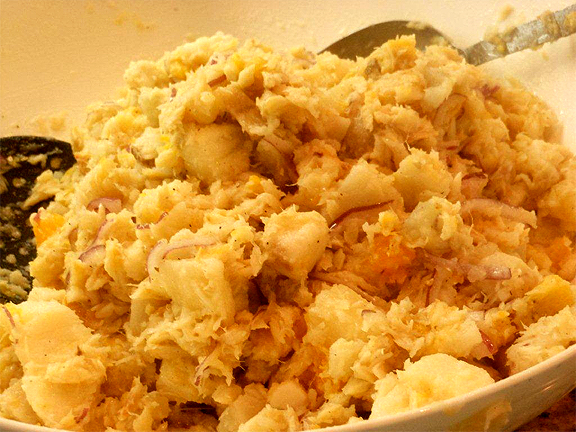 Ingredients
2 cups packaged shredded salt cod

Butter/Margarine

2 Tablespoon

Flour

2 Tablespoon

Milk

1 3/4 Cup (16 tbs)

Egg

1

, Well beaten

Pepper

1/8 Teaspoon

Powdered nutmeg

1/8 Teaspoon

2 cups soft fresh bread crumbs

Onion

1/2 Cup (16 tbs)

, minced

Celery

1 Cup (16 tbs)

, minced

Cheese

1/4 Cup (16 tbs)

, grated
Directions
1. Start oven, set at Moderate 375° F. Rub a casserole with butter or margarine.
2. Freshen the codfish according to directions on the package. Drain, remove bones.
3. Melt the butter or margarine in a saucepan, blend in the flour; then add the milk and egg, slowly. Simmer and stir this sauce until it is thickened and smooth; add the pepper and nutmeg.
4. Arrange a layer of the shredded codfish in the bottom of the casserole. Top with a layer of bread crumbs, then a layer of mixed onion and celery. Pour some of the sauce over these ingredients. Repeat until all ingredients are used; top with the grated cheese.
5. Bake 15 to 20 minutes.