»

Recipes

»

Eggplant
Scalloped Eggplant Recipe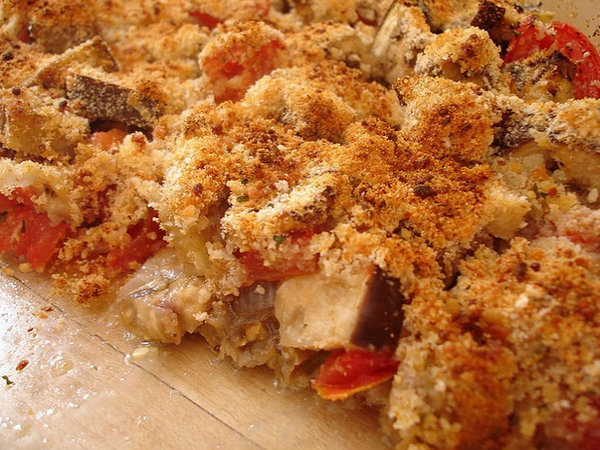 Summary
Preparation Time
5 Min
Cooking Time
30 Min
Ready In
35 Min
Difficulty Level
Very Easy
Health Index
Average
Servings
4
Ingredients
| | | |
| --- | --- | --- |
| | Cooked eggplant | 1 Pint |
| | White sauce | 1⁄4 Cup (4 tbs) |
| | Grated cheese | 1⁄4 Cup (4 tbs) |
| | Chopped onion | 1 Teaspoon |
| | Canned tomatoes | 1⁄2 Cup (8 tbs) |
| | Buttered crumbs | 1⁄2 Cup (8 tbs) |
Nutrition Facts
Serving size
Calories 122 Calories from Fat 33
% Daily Value*
Total Fat 4 g5.8%
Saturated Fat 1.7 g8.6%
Trans Fat 0 g
Cholesterol 8.1 mg
Sodium 253.5 mg10.6%
Total Carbohydrates 18 g5.9%
Dietary Fiber 4.4 g17.7%
Sugars 4.6 g
Protein 6 g12.5%
Vitamin A 5.7% Vitamin C 5.2%
Calcium 11.6% Iron 2.9%
*Based on a 2000 Calorie diet
Directions
GETTING READY
1. Peel and slice the eggplant
2. Drop in a saucepan of boiling salted water and boil till tender.
3. Drain well
4. Butter a casserole dish.
5. Preheat the oven to 350°F

MAKING
6. Layer ½ the eggplant in the baking dish and sprinkle a little cheese.
7. Pour 1/3 the sauce to cover the eggplant.
8. Top with the onion and tomatoes and cover with sauce.
9. Layer remaining eggplant slices and top with sauce and cheese.
10. Sprinkle the buttered crumbs on top
11. Bake in the preheated oven for 30 minutes until crust is golden brown.

SERVING
12. Serve straight from the casserole.
Image Courtesy :
http://www.flickr.com/photos/citymama/213750190/