»

Recipes

»

Carrot

»

Savory Carrot Sticks
Savory Carrot Sticks Recipe
Carrots are a rich source of Vitamin A. Here's combining the best of taste and health. This savory carrot sticks is for you if you love carrots. Get your kids too to eat vegetables with a smile.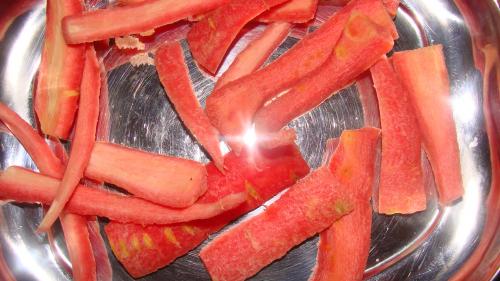 Ingredients
Carrots

6 Medium

Onion

1/2 Cup (16 tbs)

, chopped

3 tbsp. vegetable margarine

Rosemary

1/4 Teaspoon

Parsley, minced

Salt

To Taste

Pepper

To Taste
Directions
Cut carrots into 2-inch sticks.
Place carrot sticks in top of double boiler; add onion, margarine and rosemary.
Cover; cook over boiling water for 30 minutes or until crunchy.
Season with salt and pepper.
Sprinkle with minced parsley.