»

Recipes

»

Beef

»

Savory Beef Supper
Savory Beef Supper Recipe
Savory beef supper is a super easy and easy to prepare beef meal. A one pot meal, the beef supper can be cooked in a sauce pan with all the ingredients thrown together. Served with rice or dinner rolls, the savory beef supper is filling, delicious and homely.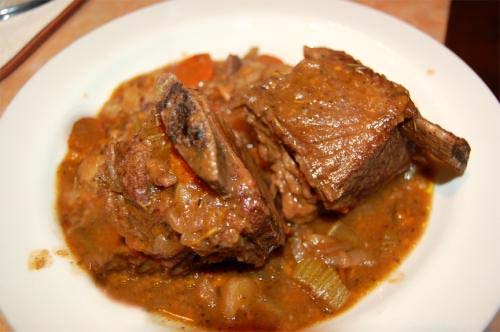 Ingredients
Cubed cooked roast beef

1 Cup (16 tbs)

Cubed potato

1 1⁄2 Cup (24 tbs)

Condensed beef broth

1⁄2 Cup (8 tbs)

Canned stewed tomatoes

8 Ounce

Seasoned salt

1⁄2 Teaspoon

Pepper

1 Dash

Canned small white onions

8 Ounce

, drained
Nutrition Facts
Serving size
Calories 232 Calories from Fat 28
% Daily Value*
Total Fat 3 g4.8%
Saturated Fat 1.5 g7.4%
Trans Fat 0 g
Cholesterol 49.4 mg
Sodium 1417.9 mg59.1%
Total Carbohydrates 30 g10.1%
Dietary Fiber 4.3 g17.2%
Sugars 5.7 g
Protein 22 g44%
Vitamin A 2.7% Vitamin C 54.8%
Calcium 7.4% Iron 11.3%
*Based on a 2000 Calorie diet
Directions
In Saucepan, combine ingredients except onions.
Cover and cook till potato is tender, about 20 to 25 minutes, stirring occasionally.
Add onions; heat through.