»

Recipes

»

Pie

»

Pork Pie

»

Savory Pork Pie
Savory Pork Pie Recipe
Savory Pork Pie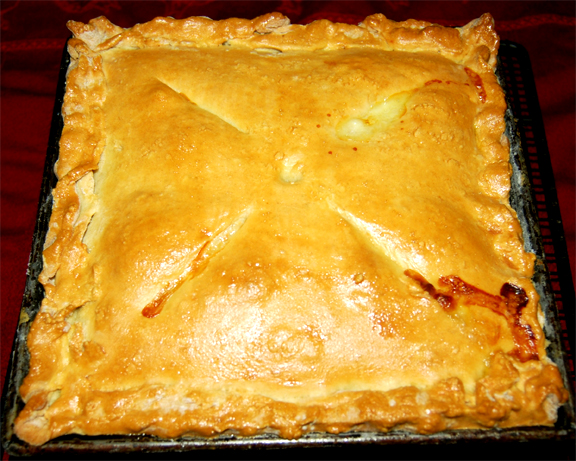 Ingredients
| | | |
| --- | --- | --- |
| | Pork butt cubes | 1 1⁄2 Pound |
| | Flour | 3 Tablespoon |
| | Butter | 2 Tablespoon |
| | Chopped celery | 1⁄3 Cup (5.33 tbs) |
| | Chopped onion | 3⁄4 Cup (12 tbs) |
| | Salt | 1 Teaspoon |
| | Pepper | 1⁄8 Teaspoon |
| | Half and half | 1⁄2 Cup (8 tbs) |
| | Prepared biscuit mix | 1 |
Directions
Cut pork into 1-inch cubes; dredge in flour.
Brown cubes in butter; add celery, onion, salt, pepper and 1 1/2 cups boiling water.
Simmer, covered,for 1 hour and 30 minutes.
Add water, if necessary.
Stir in half and half; bring back to simmer.
Place in baking dish.
Preheat oven to 450 degrees.
Prepare biscuit mix according to package directions for biscuits.
Top hot mixture with biscuits.
Bake for 10 to 12 minutes.