»

Recipes

»

Stew

»

Savory Chicken Stew
Savory Chicken Stew Recipe
This savory chicken stew recipe has a unique blend of broiler-fryer, sliced zucchini, tomatoes pepper and delightful spices. Follow this savory chicken stew recipe and you can for sure have a filling meal. Check it out!
Chicken Stew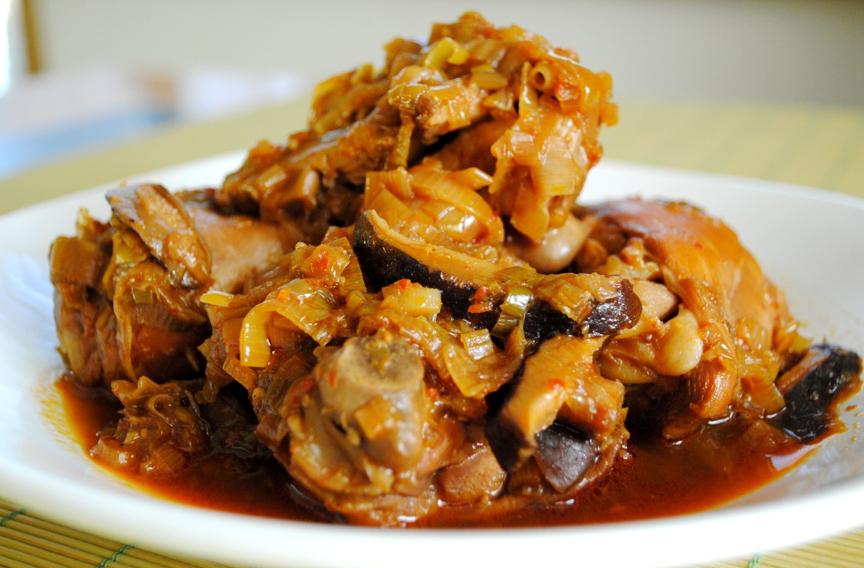 Ingredients
Broiler fryer

2 1⁄2 Pound

, cut up

Onion

1 Large

, diced

Garlic

1 Clove (5 gm)

, minced

Zucchini

24 Ounce

, cut into 1/2 inch thick slices

Eggplant

1 Small

, cut into 1 inch chunks

Green pepper

1 Large

, cut into pieces

Salt

2 Teaspoon

Basil

1 Teaspoon

Oregano leaves

1 Teaspoon

Sugar

1⁄2 Teaspoon

Tomatoes

2 Large

, cut into wedges
Nutrition Facts
Serving size: Complete recipe
Calories 2876 Calories from Fat 1568
% Daily Value*
Total Fat 174 g267.8%
Saturated Fat 49.6 g247.9%
Trans Fat 0 g
Cholesterol 850.4 mg
Sodium 4783.4 mg199.3%
Total Carbohydrates 99 g33%
Dietary Fiber 32.4 g129.5%
Sugars 49.7 g
Protein 231 g462.9%
Vitamin A 141.8% Vitamin C 597.4%
Calcium 40.6% Iron 88.8%
*Based on a 2000 Calorie diet
Directions
1. In 6-quart Dutch oven or saucepot over medium-high heat, in 2 tablespoons hot salad oil, cook chicken, several pieces at a time, until browned on all sides, removing chicken pieces to plate as they brown.
2. In same Dutch oven over medium heat, in 1/2 cup hot salad oil, cook onion and garlic until tender, stirring occasionally. Add zucchini, egg plant, and green pepper; cook 5 minutes, stirring occasionally.
3. Return chicken to Dutch oven; stir in salt, basil, oregano, and sugar. Reduce heat to low; cover and simmer 30 minutes, stirring occasionally.
4. Stir in tomato wedges; cover and simmer minutes longer or until chicken and vegetables are tender. Skim fat from liquid in Dutch oven.