»

Recipes

»

Scallop

»

Sauteed Scallop
Sauteed Scallop Recipe
My sister likes this Sauteed Scallop recipe. It is true that cooking is her hobby. She keeps preparing various types of dishes. But whenever she is very happy. She makes this dish . An Interesting fact is that my family also likes this scallop very much. You must try this Sauteed Scallop recipe.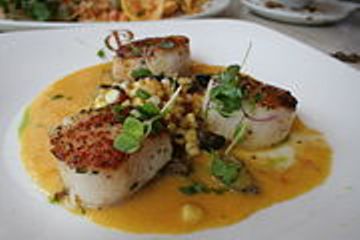 Ingredients
Scallops

4 Pound

Butter

1⁄2 Pound

, melted

Onions

2 Cup (32 tbs)

, finley chopped

Parsley

1⁄4 Bunch (25 gm)

, finely chopped

Lemons juice

4 Teaspoon

Bread crumbs

2 Cup (32 tbs)
Nutrition Facts
Serving size
Calories 601 Calories from Fat 295
% Daily Value*
Total Fat 34 g51.6%
Saturated Fat 19.8 g99%
Trans Fat 0 g
Cholesterol 181.1 mg
Sodium 597.6 mg24.9%
Total Carbohydrates 20 g6.8%
Dietary Fiber 1.4 g5.7%
Sugars 3 g
Protein 53 g105.9%
Vitamin A 29% Vitamin C 33.5%
Calcium 12.3% Iron 10.1%
*Based on a 2000 Calorie diet
Directions
Stage1-Saute onions and parsley in butter. Remove from heat.

Stage2-Pat scallops in pan until all sides are full coated with butter. Place in baking dish in one layer if possible.

Stage3-Sprinkle lightly with salt and pepper.

Stage4-Sprinkle with lemon juice, and then with crushed croutons or buttered bread crumbs.

Stage5-Bake 08 minutes on top shelf of 375 degree Fareinhite oven.

Looks like John04 messed up. Either the picture is not of the recipe or instead of bay scallops, the ingredient list should say Sea Scallops. What say you John04 ?
Posted on:
13 February 2008 - 3:41am

The photo shows sea scallops or Diver Scallops as they are called. Bay Scallops are tiny, so I am confused. Baking bay scallops for 25 minutes would over cook them greatly and they would be rubbery. It is so important o never overcook scallops. Or as Chef Thomas Keller of the French aunbndry demonstrated yesterday on TV just barely cook them leaving them a bit undercooked. Wish I could share his amazing demo on TVyesterday- sea scallops cooked in a delightful simple amazing way-took him 5 minutes to prepare the dish. So please is the photo of the given recipe? Shanti/Mary-Anne
Posted on:
12 February 2008 - 11:35pm

Yes Mary-Anne , By Mistake, I have posted wrong photograph. Thanks for comment.
Posted on:
13 February 2008 - 8:45am