»

Recipes

»

Corn

»

Sautéed Fresh Corn With Onions And Sweet Peppers And Natural Corn Cream
Sautéed Fresh Corn With Onions and Sweet Peppers and Natural Corn Cream Recipe
This sauteed fresh corn recipe features one of my favorite ways to prepare fresh corn; it's just luscious! The corn kernels are sliced off their cobs and the creamy, delicate substance that I call "corn cream" is scraped from each cob into the kernels. Serve this crisp, colorful and soothing side dish with any grilled, broiled or roasted meat, poultry or fish (it's especially wonderful with lamb or chicken). And even when not serving a crowd, I usually prepare the entire amount and refrigerate the leftovers to throw into salads, to simmer in soup or as a colorful and textural addition to a rice pilaf.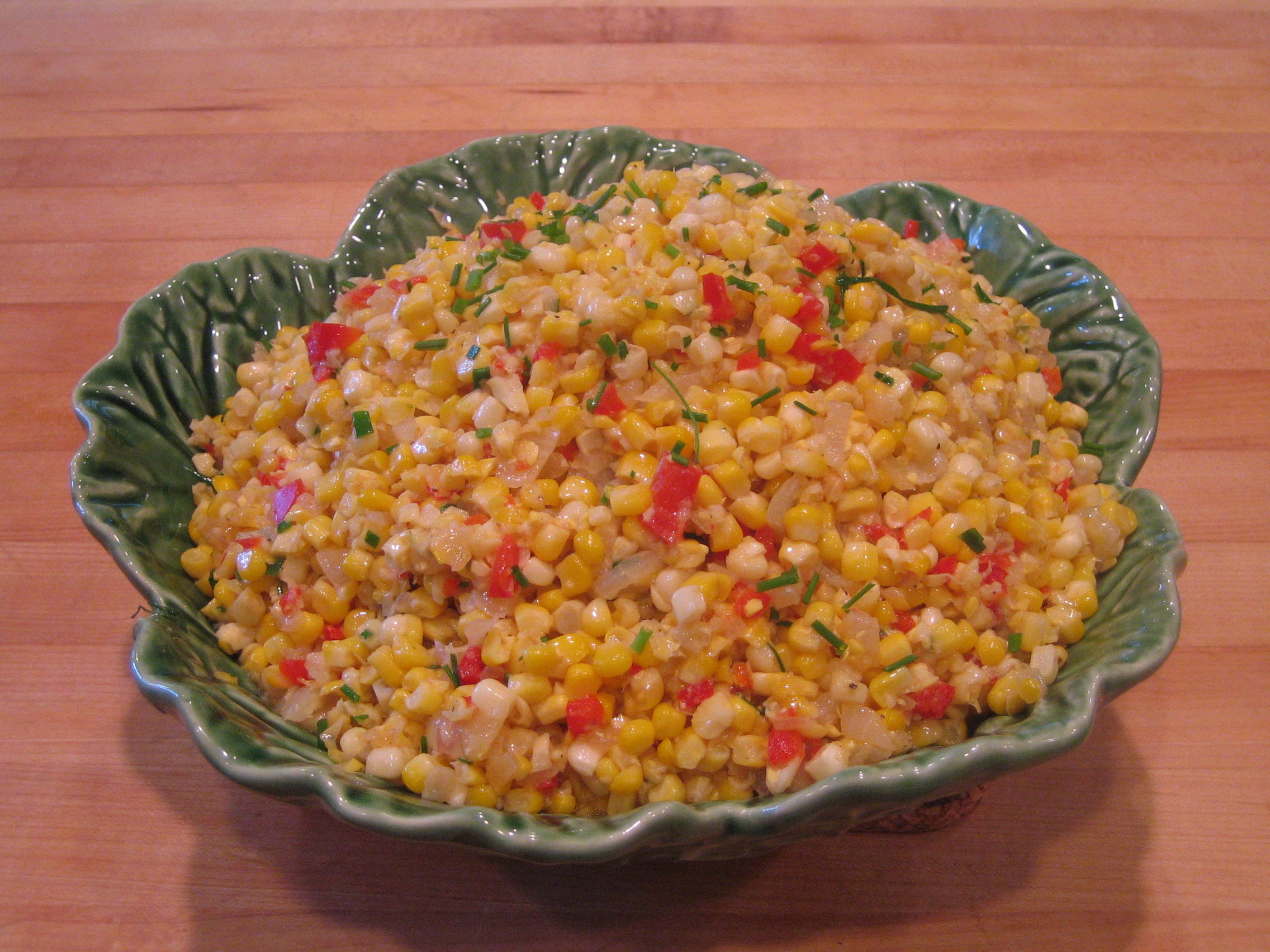 Ingredients
Ears of fresh corn/1 1/2 pounds frozen corn

12

, outer husks and all silk removed (unthawed)

Butter

4 Tablespoon

(1/2 stick or more)

Garlic

2 Clove (10 gm)

, chopped

Yellow onion

1 Large

, chopped

Sweet red bell pepper/Green bell pepper

1 Large

, chopped (seeded)

Kosher salt/Sea salt

To Taste

Freshly ground black pepper

To Taste

Chopped flat leaf italian parsley/Minced fresh chives or cilantro

1⁄4 Cup (4 tbs)

Heavy cream

1⁄2 Cup (8 tbs)

(only if using frozen corn)
Nutrition Facts
Serving size: Complete recipe
Calories 4748 Calories from Fat 1068
% Daily Value*
Total Fat 123 g189.1%
Saturated Fat 63.1 g315.3%
Trans Fat 0 g
Cholesterol 293.4 mg
Sodium 644.3 mg26.8%
Total Carbohydrates 941 g313.5%
Dietary Fiber 115.1 g460.5%
Sugars 144.2 g
Protein 131 g263%
Vitamin A 276.3% Vitamin C 496.5%
Calcium 28.8% Iron 151.7%
*Based on a 2000 Calorie diet
Directions
1) To remove corn kernels from cobs: Stand the cob on its flat end and, beginning at the pointed top, run the blade of a sharp knife down the cob in a sawing motion. This will release the kernels so they fall onto your work surface. Avoid cutting into the cob with the knife. Instead, allow a small portion of the bottom of each kernel to remain attached to the cob. Scoop up the kernels using a pastry scraper and place them into a bowl.

2) To extract the corn cream: Scrape the milk from each cob by holding the cob so it rests over the edge of the bowl of corn. Position the blade of the knife on the cob so that the top (dull side) is tilted away from you and the sharp edge is toward you. Pull the blade (going away from you) down over the cob in a brisk, firm and repetitive motion. As the corn cream is released from the cob, it will fall into the bowl of corn. Discard empty cobs.

3) To sauté the vegetables and serve: Heat butter in a 12-inch, deep-sided skillet over medium heat and, when bubbling, add the chopped onions. Sauté the onions until softened and very fragrant, about 5 minutes. Reduce heat to low, add the garlic and cook until the onions are just starting to turn golden, about 5 minutes more. Stir in the chopped red pepper and cook for another 3 minutes. Stir the corn with corn cream (or frozen corn with heavy cream) into the skillet and cook uncovered, stirring occasionally over low heat, until the corn is crisp tender and very hot, about 10 minutes.

4) To serve: Add salt and black pepper, to taste, along with the chopped herbs of your choice. If desired, for extra richness of flavor, stir in another 2 to 3 tablespoons of softened butter. Stir until the butter is just melted and the herbs have heated through. Serve hot.

Timing is Everything

• The vegetables can be chopped 1 day ahead and refrigerated separately in well-covered bowls.

• Although corn should remain in their husks as long as possible, in a pinch, you can clean the corn and remove the kernels and corn cream as much as one day ahead (especially if using a super-sweet variety). Keep the bowl of corn well-covered and refrigerated since warmth encourages the natural sugar in corn to convert into starch, which adversely affects texture.