»

Recipes

»

Sausage

»

Sausage Kraut Bake
Sausage Kraut Bake Recipe
Sausage and kraut bake is a pork sausage and sauerkraut bake that can be served with bread or dinner rolls for a filling and delicious meal. The sauerkraut combined wit the mashed potatoes and milk is spread over the pork sausages and baked with a topping of cheese. A thorough and comforting meal that is easy to throw together.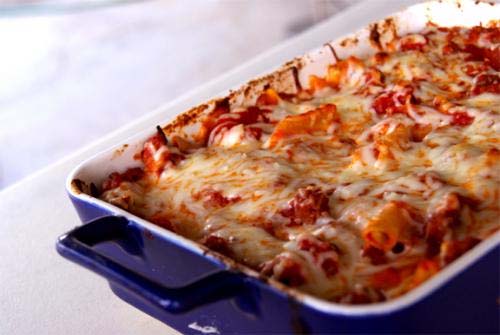 Ingredients
Potatoes

2 Medium

Sauerkraut

8 Ounce

, drained (1 Cup)

Sliced green onion

1 Tablespoon

Bulk pork sausage

1⁄2 Pound

Milk

2 Tablespoon

Butter

1 Tablespoon

(Margarine)

Salt

1⁄4 Teaspoon

Pepper

1 Dash

Grated parmesan cheese

2 Tablespoon
Nutrition Facts
Serving size
Calories 626 Calories from Fat 362
% Daily Value*
Total Fat 41 g62.3%
Saturated Fat 18.4 g92.2%
Trans Fat 0 g
Cholesterol 136.3 mg
Sodium 1803.7 mg75.2%
Total Carbohydrates 42 g14.1%
Dietary Fiber 8.5 g34%
Sugars 6 g
Protein 27 g53.8%
Vitamin A 17.7% Vitamin C 96.3%
Calcium 29.1% Iron 25.6%
*Based on a 2000 Calorie diet
Directions
Pare and cook potatoes.
Meanwhile, combine sauerkraut and onion; place in 2 to 3 cup casserole.
Brown sausage; drain; spoon over sauerkraut.
Drain potatoes; mash with milk, butter, salt, and pepper.
Spread over sausage; sprinkle with Parmesan cheese.
Bake in hot oven (400°) for 25 to 30 minutes or till lightly browned.