»

Recipes

»

Sausage

»

Sausage Kraut Bake
Sausage Kraut Bake Recipe
Sausage and kraut bake is a pork sausage and sauerkraut bake that can be served with bread or dinner rolls for a filling and delicious meal. The sauerkraut combined wit the mashed potatoes and milk is spread over the pork sausages and baked with a topping of cheese. A thorough and comforting meal that is easy to throw together.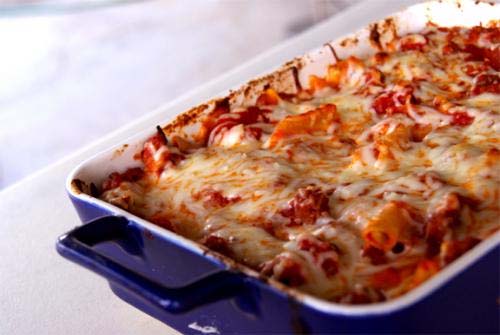 Ingredients
Potatoes

2 Medium

1 8 ouncecan (1cup) sauerkraut drained

1 tablespoon sliced green onion

1/2 pound bulk pork sausage

Milk

2 Tablespoon

Butter/Margarine

1 Tablespoon

Salt

1/4 Teaspoon

Pepper

1 Dash

Parmesan cheese

2 Tablespoon

, grated
Directions
Pare and cook potatoes.
Meanwhile, combine sauerkraut and onion; place in 2 to 3 cup casserole.
Brown sausage; drain; spoon over sauerkraut.
Drain potatoes; mash with milk, butter, salt, and pepper.
Spread over sausage; sprinkle with Parmesan cheese.
Bake in hot oven (400°) for 25 to 30 minutes or till lightly browned.