»

Recipes

»

Sausage

»

Sausage Crescents
Sausage Crescents Recipe
If you have brown n serve sausages and crescent dinner rolls ready at home, you can prepare these Sausage Crescents in a jiffy. Don't you worry, the preparation time don't take anything more than 25 minutes. Why don't you give this Sausage Crescents a try for the upcoming party.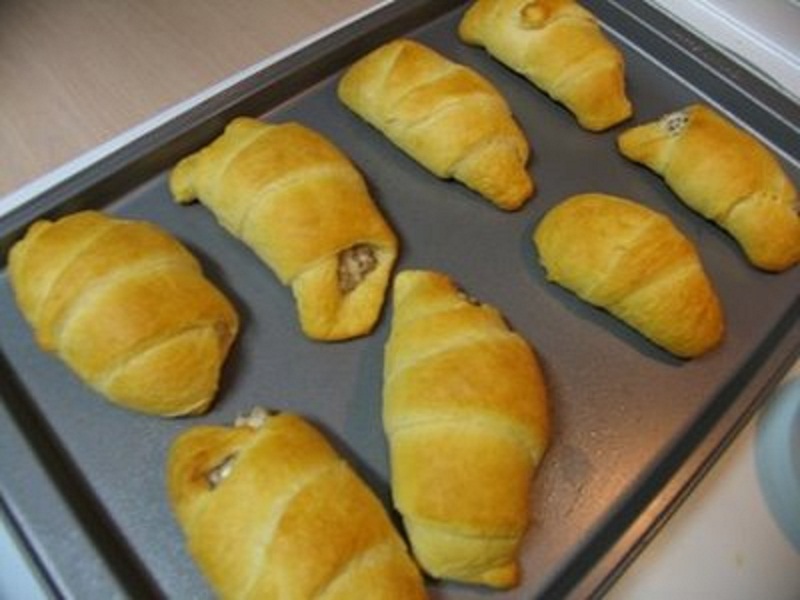 Ingredients
Refrigerated crescent dinner rolls

1 Can (10 oz)

Sausages

16

(Brown N Serve)
Nutrition Facts
Serving size
Calories 237 Calories from Fat 175
% Daily Value*
Total Fat 19 g29.8%
Saturated Fat 6.4 g32.1%
Trans Fat 0.1 g
Cholesterol 69.5 mg
Sodium 472.6 mg19.7%
Total Carbohydrates 4 g1.3%
Dietary Fiber 0.19 g0.77%
Sugars 1.4 g
Protein 11 g22.3%
Vitamin A 2% Vitamin C 0.7%
Calcium 2% Iron 4.2%
*Based on a 2000 Calorie diet
Directions
Halve crescent triangles.
Place a brown and serve sausage on each small triangle; roll up.
Place on ungreased baking sheet.
Bake at 375 degrees for 10 to 13 minutes or until golden brown.