»

Recipes

»

German

»

Sausage And Sauerkraut
Sausage And Sauerkraut Recipe
Sausage And Sauerkraut is an amazingly delicious recipe. Try this Sausage And Sauerkraut recipe; I am sure you will have a huge fan following for this one!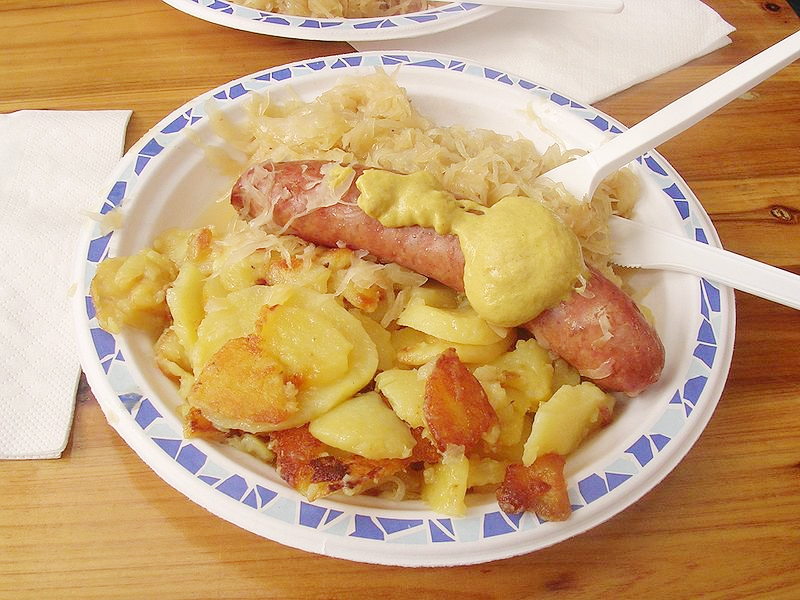 Ingredients
Smoked turkey sausage

1 Pound

Sauerkraut

32 Ounce

, drained

Potatoes

2 Cup (32 tbs)

, thinly sliced (unpeeled)

Onion

1⁄2 Cup (8 tbs)

, thinly sliced
Nutrition Facts
Serving size: Complete recipe
Calories 1229 Calories from Fat 372
% Daily Value*
Total Fat 41 g63.7%
Saturated Fat 0.45 g2.2%
Trans Fat 0 g
Cholesterol 240.4 mg
Sodium 10233.3 mg426.4%
Total Carbohydrates 145 g48.2%
Dietary Fiber 40.5 g162.2%
Sugars 37.2 g
Protein 85 g171%
Vitamin A 16.5% Vitamin C 593.3%
Calcium 43.4% Iron 334.3%
*Based on a 2000 Calorie diet
Directions
Place sauerkraut in large casserole.
Top with onions and potatoes.
Cut sausage into serving pieces (about 10) and place on top of potatoes and onions.
Cover and cook at 350 degrees for 1 hour or until potatoes are tender.
Image Courtesy :
http://en.wikipedia.org/wiki/File:Mettwurst.JPG