»

Recipes
Sauerbraten Recipe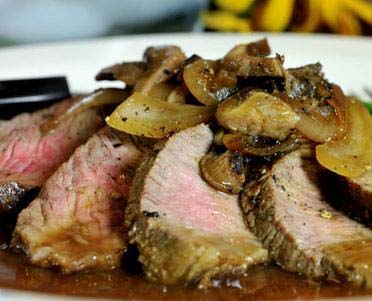 Ingredients
White wine vinegar

1 Cup (16 tbs)

Water

1 Cup (16 tbs)

Onion flakes

2 Teaspoon

2 or 3 cloves

Bay leaves

2

1/2 tsp each, thyme, basil

3 or 4 lbs top round of beef

Flour

2 Tablespoon

2 tbs bacon dripping

Salt

2 Teaspoon

1/4 cup each, diced carrot, parsnip, onion, celery

4 or 5 gingersnaps (optional)
Directions
Combine vinegar, water, onion flakes, herbs in saucepan; simmer 5 minutes.
Pour over meat in a bowl; cover and refrigerate overnight, or, better still, up to 4 days, turning meat several times.
Drain off marinade and save.
Rub meat with the flour, then brown on all sides in the hot dripping.
Add salt, vegetables and strained marinade.
Cover and bake slowly for 3 hours at 350F or until fork-tender.
Lift roast to hot platter.
Skim fat from liquid; stir in the crumbled gingersnaps to thicken gravy.
Season gravy with freshly ground black pepper and more salt if you wish.