»

Recipes

»

European

»

Swiss

»

Saucy Swiss Steak
Saucy Swiss Steak Recipe
This Saucy Swiss steak is a recipe that you would love to have when you have a large gathering. A easy to make dish that would cater to the taste of all your guests. Try it!!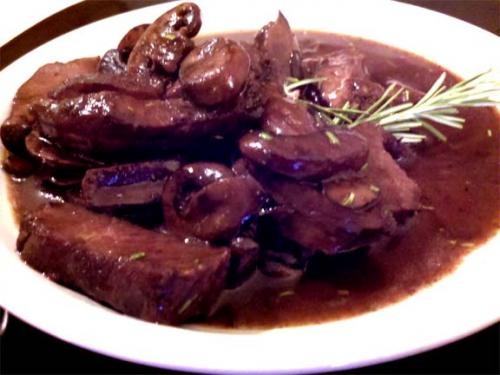 Ingredients
Tenderized round steak

4 Pound

Garlic salt

To Taste

Pepper

To Taste

Flour

1⁄8 Cup (2 tbs)

Oil

2 Tablespoon

Catsup

12 Ounce

Piccalilli

350 Milliliter

Onion

1 Medium

, chopped

Hot pepper

1 Small

, chopped

Mushrooms

5 Ounce

(canned)

Water

6 Cup (96 tbs)
Nutrition Facts
Serving size
Calories 394 Calories from Fat 165
% Daily Value*
Total Fat 18 g28.2%
Saturated Fat 6.3 g31.7%
Trans Fat 0 g
Cholesterol 73.6 mg
Sodium 518.2 mg21.6%
Total Carbohydrates 15 g5.1%
Dietary Fiber 0.67 g2.7%
Sugars 8.9 g
Protein 40 g81%
Vitamin A 6.9% Vitamin C 11.7%
Calcium 4.4% Iron 10.9%
*Based on a 2000 Calorie diet
Directions
GETTING READY
1) Preheat the oven to 325° F.
2) Cut steak into bite-size pieces, sprinkle generously with garlic salt and pepper.
3) In a flat platter, spread the flour and roll the steak in it.

MAKING
4) In a non-stick pan, heat oil and brown the steak.
5) Using a perforated ladle remove the steak and place in baking pan.
6) In bowl, mix together catsup, piccalilli, onion, hot pepper, mushrooms and water.
7) Stream the catsup mixture over steak.
8) Bake the steak in the oven for 1 hour, until in the meat is tender.

SERVING
9) Serve the Saucy Swiss Steak hot with freshly sliced bread, if desired.