»

Recipes

»

Beef

»

Saucy Short Ribs
Saucy Short Ribs Recipe
These Saucy Short Ribs taste incredible ! Try these short ribs irresistibly sauced in whole berry and cranberry sauces with horseradish seasonings for your next meal. Your suggestions for these Saucy Short Ribs are welcome.
Savory Beef Short Ribs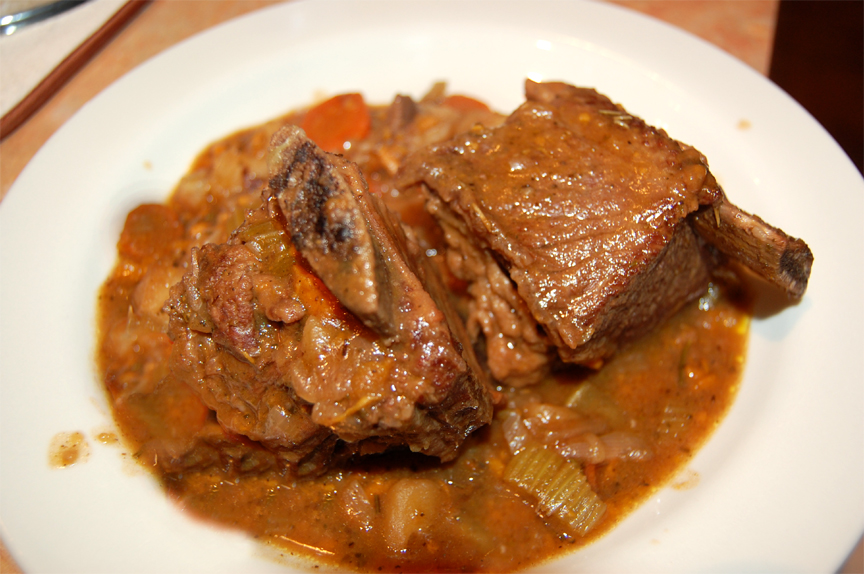 Ingredients
Salad oil

2 Tablespoon

4 pounds beef chuck short ribs

2 pounds small white onions

2 medium-sized garlic cloves

1 8-ounce can whole-berry cranberry sauce

4 large celery stalks, cut into 2-inch pieces

Water

1 Cup (16 tbs)

3/4 cup catchup

1 tablespoon prepared white horseradish

Salt

1 1/4 Teaspoon
Directions
1. In 5-quart Dutch oven over medium-high heat, in hot salad oil, cook beef chuck short ribs, a few at a time, until well browned on all sides, removing ribs to bowl as they brown.
2. Reduce heat to medium; add onions and garlic to drippings in Dutch oven and cook until lightly browned, stirring mixture occasionally. Spoon off fat from Dutch oven.
3. Return ribs to Dutch oven; stir in cranberry sauce and remaining ingredients; heat to boiling. Reduce heat to low; cover Dutch oven and simmer about 2 hours, stirring occasionally, until meat is fork-tender. Skim fat from sauce.